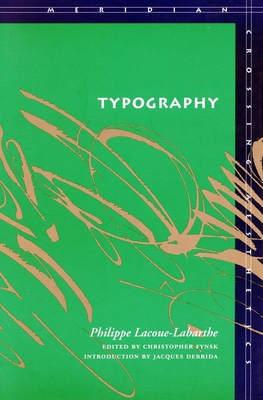 Typography (Paperback)
Mimesis, Philosophy, Politics (Meridian: Crossing Aesthetics)
Stanford University Press, 9780804732826, 326pp.
Publication Date: January 1, 1998
* Individual store prices may vary.
Description
Philosopher, literary critic, translator (of Nietzsche and Benjamin), Philippe Lacoue-Labarthe is one of the leading intellectual figures in France. This volume of six essays deals with the relation between philosophy and aesthetics, particularly the role of mimesis in a metaphysics of representation. Comment 1997] "Typography is a book whose importance has not diminished since its first publication in French in 1979. On the contrary, I would say, it is only now that one can truly begin to appreciate the groundbreaking status of these essays. The points it makes, the way it approaches the questions of mimesis, fictionality, and figurality, is unique. There are no comparable books, or books that could supersede it." --Rudolphe Gasch , State University of New York, Buffalo "Lacoue-Labarthe's essays still set the standards for thinking through the problem of subjectivity without simply retreating behind insights already gained. But this book is much more than a collection of essays: it constitutes a philosophical project in its own right. Anybody interested in the problem of mimesis--whether from a psychoanalytic, platonic, or any other philosophical angle--cannot avoid an encounter with this book. Lacoue-Labarthe is a philosopher and a comparatist in the highest sense of the word, and the breadth of his knowledge and the rigor of his thought are exemplary." --Eva Geulen, New York University Review "In demonstrating how mimesis has determined philosophical thought, Lacoue-Labarthe provokes us into reconsidering our understanding of history and politics. . . . Together with the introduction, these essays are essential reading for anyone interested in Heidegger, postmodernism, and the history of mimesis in philosophy and literature." --The Review of Metaphysics
About the Author
Philippe Lacoue-Labarthe teaches at the University of Strasbourg. His most recent book to be translated into English is Musica Ficta (Figures of Wagner) (Stanford, 1994).
Praise For Typography: Mimesis, Philosophy, Politics (Meridian: Crossing Aesthetics)…
"Typography is a book whose importance has not diminished since its first publication in 1979. The points it makes, the way it approaches the questions of mimesis, fictionality, and figurality, is unique. There are no comparable books, or books that could supersede it." —Rodolphe Gasché, SUNY, Buffalo