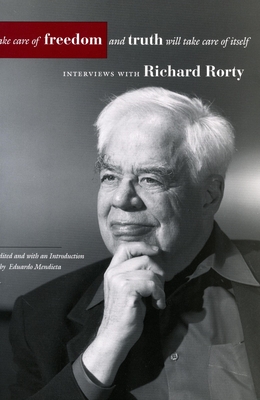 Take Care of Freedom and Truth Will Take Care of Itself (Paperback)
Interviews with Richard Rorty (Cultural Memory in the Present)
Stanford University Press, 9780804746182, 213pp.
Publication Date: November 29, 2005
* Individual store prices may vary.
Description
This volume collects a number of important and revealing interviews with Richard Rorty, spanning more than two decades of his public intellectual commentary, engagement, and criticism. In colloquial language, Rorty discusses the relevance and nonrelevance of philosophy to American political and public life. The collection also provides a candid set of insights into Rorty's political beliefs and his commitment to the labor and union traditions in this country. Finally, the interviews reveal Rorty to be a deeply engaged social thinker and observer.
About the Author
Richard Rorty is Professor of Comparative Literature at Stanford University. He is the author of three volumes of Philosophical Papers (1991-1998), and Philosophy and Social Hope (1999). Eduardo Mendieta is Associate Professor of Philosophy at SUNY, Stony Brook. He is the author of Adventures of Transcendental Philosophy: Karl-Otto Apel's Semiotics and Discourse Ethics (2002).
Praise For Take Care of Freedom and Truth Will Take Care of Itself: Interviews with Richard Rorty (Cultural Memory in the Present)…
"The United States has produced a great many idiosyncratic champions of human freedom, Walt Whitman and William James above all. It is time to recognize Rorty's place in that lineage."—Dissent

"Rorty is an extraordinarily important and influential philosopher, both inside and outside philosophy. His thoughtful political and social views are worth presenting in interview format . . . . Many of the interviews here are otherwise inaccessible, making this collection invaluable." —Samuel C. Wheeler III, University of Connecticut