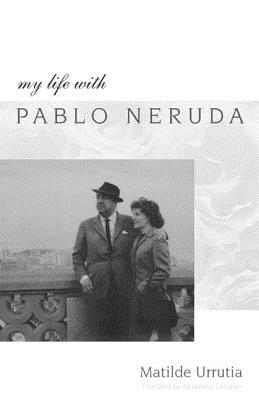 My Life with Pablo Neruda
Hardcover

* Individual store prices may vary.
Description
Matilde Urrutia was poet Pablo Neruda's lover, muse, wife, and widow. The Nobel-laureate Chilean wrote The Captain's Verses and One Hundred Love Sonnets--two of the most celebrated volumes of love lyrics in modern Spanish letters--for her. In My Life with Pablo Neruda, Urrutia reveals her side of their famed romance. But her book is not simply a love story told by a muse; it is also a document of her life as the persecuted widow of a national hero. Her voice lifts out of the sorrow and violence of the military dictatorship that precipitated her beloved's death in 1973, to reaffirm the power of Neruda's own passionate voice.
My Life with Pablo Neruda opens with the dramatic events of September 11, 1973, with Augusto Pinochet's overthrow of the democratically elected socialist president of Chile, Salvador Allende. Devastated by the coup, the sixty-nine-year-old Neruda dies a few days later of a heart attack. Grief-stricken, Urrutia takes refuge in her memories, reeling back through time to recount the heady early days of her twenty-two-year romance with Neruda. Here, she reveals the birth of The Captain's Verses and divulges the secrets of their illicit marriage in Italy. Urrutia then returns to the grim reality she faces in Santiago in the mid-1970s, to describe life under the dictatorship. Harassed by Pinochet's henchmen, she becomes an exile within her own country, mourns the torture and disappearance of loved ones, and finally awakes from the stupor of sorrow and commits herself to using Neruda's words to lash out against the bloody regime.
Reading My Life with Pablo Neruda is like spending a long afternoon with Matilde Urrutia. In a conversational style, she brings Neruda to life, and he emerges as a vibrant, playful, and impatient man driven by unbounded appetites. At once humorous and heart-breaking, Urrutia's story makes for a fine domestic complement to Neruda's own lush memoirs.

Praise For My Life with Pablo Neruda…
"Urrutia draws strength from her husband's writings after his death as she faces her fears of remaining silent in the face of injustice. Her graceful prose offers not only a glimpse of her life with the great poet but also a portrait of the nobility of suffering under an unjust political regime." —Publishers Weekly

"In the category of personal accounts, Matilde Urrutia's autobiography is particularly important. She was not only the raison d'etre of One Hundred Love Sonnets but also the source of peace and domesticity in Neruda's mature life, and the keeper of the flame after his death." —Ilan Stavans,editor of The Poetry of Pablo Neruda and Professor of Latin American and Latino Culture, Amherst College
Stanford General Books, 9780804750097, 312pp.
Publication Date: September 29, 2004
About the Author
Matilde Urrutia was Pablo Neruda's muse and companion for more than a quarter of a century--first as the Chilean poet's secret lover, and eventually as his second wife. Her memoir, first published in Spanish in 1986 and more commercially in 1997, has not hitherto appeared in English. Alex Guardino is a free-lance translator, writer, and editor, and also a community college instructor.
or
Not Currently Available for Direct Purchase