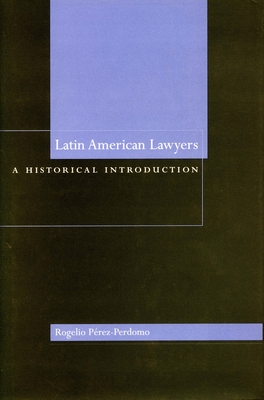 Latin American Lawyers (Hardcover)
A Historical Introduction
Stanford University Press, 9780804751261, 171pp.
Publication Date: January 6, 2006
* Individual store prices may vary.
Description
This book is the first comprehensive history of the intellectual training and social placement of lawyers in Latin America. P rez-Perdomo examines the Roman legal roots of the Latin American tradition and traces the development of legal education and practice in Latin America from the 16th century to the present. The main themes in the book are the relationship between lawyers and power, the place of lawyers in social stratification, the role of law and lawyers in building nations and maintaining elite power, the role of law schools, and the main intellectual trends in legal thought.
Praise For Latin American Lawyers: A Historical Introduction…
"...Perez-Perdomo combines scholarship with first-hand knowledge to successfully synthesize for the first time a multitude of national studies on the history of lawyers....This volume constitutes an important academic contribution as well as a fascinating long term perspective into a profession that is crucial for the conduct of modern states and the improvement of justice and the rule of law in Latin America."—Law and Politics Book Review

"Latin American Lawyers is an important work. It analyzes the role of law and lawyers in more than twenty Latin American countries over several hundred years, building on a vast body of literature that has never before been synthesized. The issues raised in this book are important both for the general history of the region and for an understanding of the several legal professions."—David Trubek, University of Wisconsin–Madison

"This work of imposing scholarship by a leading Latin American sociologist of law provides the first coherent, sociologically reliable history of lawyers in Latin America."—John Henry Merryman, Stanford Law School