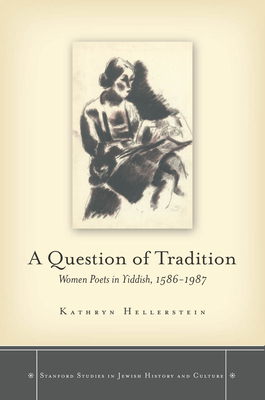 A Question of Tradition
Women Poets in Yiddish, 1586-1987 (Stanford Studies in Jewish History & Culture)
Hardcover

* Individual store prices may vary.
Description
In A Question of Tradition, Kathryn Hellerstein explores the roles that women poets played in forming a modern Yiddish literary tradition. Women who wrote in Yiddish go largely unrecognized outside a rapidly diminishing Yiddish readership. Even in the heyday of Yiddish literature, they were regarded as marginal. But for over four centuries, women wrote and published Yiddish poems that addressed the crises of Jewish history--from the plague to the Holocaust--as well as the challenges and pleasures of daily life: prayer, art, friendship, nature, family, and love. Through close readings and translations of poems of eighteen writers, Hellerstein argues for a new perspective on a tradition of women Yiddish poets. Framed by a consideration of Ezra Korman's 1928 anthology of women poets, Hellerstein develops a discussion of poetry that extends from the sixteenth century through the twentieth, from early modern Prague and Krakow to high modernist Warsaw, New York, and California. The poems range from early conventional devotions, such as a printer's preface and verse prayers, to experimental, transgressive lyrics that confront a modern ambivalence toward Judaism. In an integrated study of literary and cultural history, Hellerstein shows the immensely important contribution made by women poets to Jewish literary tradition.
Stanford University Press, 9780804756228, 496pp.
Publication Date: July 23, 2014
About the Author
Kathryn Hellerstein teaches Yiddish as associate professor in the department of Germanic Languages and Literatures at the University of Pennsylvania. Her books include Paper Bridges: Selected Poems of Kadya Molodowsky and Jewish American Literature: a Norton Anthology.