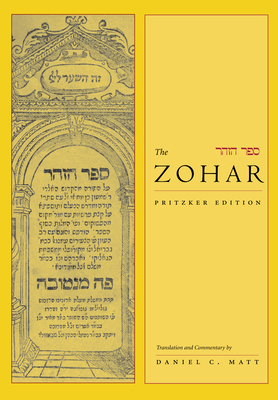 The Zohar
Pritzker Edition, Volume Four
Hardcover

* Individual store prices may vary.
Other Editions of This Title:
Hardcover (10/28/2003)
Paperback (6/1/2002)
Hardcover (10/21/2009)
Hardcover (6/1/2002)
Paperback (1/1/1983)
Hardcover (1/27/2016)
Hardcover (12/31/2003)
Hardcover (10/5/2011)
Hardcover (12/5/2005)
Description
Sefer ha-Zohar (The Book of Radiance) has amazed and overwhelmed readers ever since it emerged mysteriously in medieval Spain toward the end of the thirteenth century. Written in a unique, lyrical Aramaic, this masterpiece of Kabbalah exceeds the dimensions of a normal book; it is virtually a body of literature, comprising over twenty discrete sections. The bulk of the Zohar consists of a running commentary on the Torah, from Genesis through Deuteronomy.
This fourth volume of The Zohar: Pritzker Edition covers the first half of Exodus. Here we find mystical explorations of Pharaoh's enslavement of the Israelites, the birth of Moses, the deliverance from Egypt, the crossing of the Red Sea, and the Revelation at Mount Sinai. Throughout, the Zohar probes the biblical text and seeks deeper meaning--for example, the nature of evil and its relation to the divine realm, the romance of Moses and Shekhinah, and the inner meaning of the Ten Commandments. In the context of the miraculous splitting of the Red Sea, Rabbi Shim'on reveals the mysterious Name of 72, a complex divine name consisting of 216 letters (72 triads), formed out of three verses in Exodus 14.
These mystical interpretations are interwoven with tales of the Companions--rabbis wandering through the hills of Galilee, sharing their insights, coming upon wisdom in the most astonishing ways from a colorful cast of characters they meet on the road.
Praise For The Zohar: Pritzker Edition, Volume Four…
"A monumental contribution to the history of Jewish thought."
—Koret Jewish Book Award, The Zohar: Pritzker Edition, Volumes I and II

"Daniel C. Matt is giving us what I hardly thought possible: a superbly fashioned translation and commentary that opens up the Zohar to the English-speaking world The lucidity and overwhelming relevance of Matt's Zohar will provide both common and uncommon readers with access to a work capable of changing the consciousness of those who enter it."—Harold Bloom, Max Sterling Professor of Humanities, Yale University

"Daniel Matt's work is superior to any other available translation of the Zohar because of its superb poetic language, the exegetical contribution of its copious notes, and its superior underlying Aramaic text, which was specially prepared by Dr. Matt from numerous original Zohar manuscripts and serves as the basis for his translation. Both the general English reader and scholars in the field of religious studies will benefit tremendously from this new series of volumes." —Moshe Idel, Max Cooper Professor of Jewish Thought, Hebrew University of Jerusalem
Stanford University Press, 9780804757126, 592pp.
Publication Date: September 28, 2007
About the Author
Daniel C. Matt is a leading authority on Jewish mysticism. For over twenty years, he served as Professor of Jewish Spirituality at the Graduate Theological Union in Berkeley, California. He has also taught at Stanford University and the Hebrew University of Jerusalem. He has published ten books, including The Essential Kabbalah; Zohar: The Book of Enlightenment; Zohar: Annotated and Explained; and God and the Big Bang: Discovering Harmony between Science and Spirituality. Matt is also the translator of The Zohar: Pritzker Edition, Volume One, winner of the National Jewish Book Award, The Zohar: Pritzker Edition, Volume Two, winner, along with Volume One, of the Koret Jewish Book Award, and The Zohar: Pritzker Edition, Volume Three