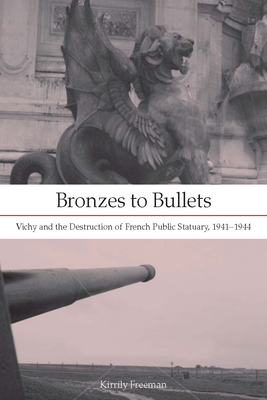 Bronzes to Bullets (Hardcover)
Vichy and the Destruction of French Public Statuary, 1941a 1944
Stanford University Press, 9780804758895, 246pp.
Publication Date: December 1, 2008
* Individual store prices may vary.
Description
Bronzes to Bullets tells the story of French statues and monuments that were melted down and shipped to Nazi munitions factories during the Second World War. Beginning with the economic context that led to the destruction of public art, the book goes on to detail the process by which monuments were removed and destroyed and the metal sent to Germany for Hitler's war machine. The most remarkable part of the story is the reaction of the French public to the loss of its artwork. People protested all over France, and many communities took extraordinary measures to save their statues. This protest, and the way the collaborationist Vichy government handled it, sheds light on the complexities of life in wartime France.
About the Author
Kirrily Freeman is Assistant Professor of History at Saint Mary's University in Halifax, Nova Scotia.
Praise For Bronzes to Bullets: Vichy and the Destruction of French Public Statuary, 1941a 1944…
"This study, a reworked Ph.D. thesis, contains much that will be of interest to teachers of modern French politics, art history, and culture in general, for the removal of bronze statuary to provide raw materials for the German war machine incidentally erased the physical aids to the memory of France's glorious past . . . The book is usefully illustrated with numerous reproductions of postcards from the author's own collection as well as with archival photos and those taken by Freeman."Derk Visser, French Review

"Kirrily Freeman's book is very readable, clear, and concise, and is an important addition to the literature on Vichy's economic and political policies; most significantly, it adds to the story of public opinion towards Vichy, and demonstrates that for most of France, the years of the war are best characterized neither as revolutionary nor as black, but as 'grey'."David A. Messenger, Canadian Journal of History

"Scrupulously researched book."Richard Vinen, American Historical Review

"Kirrily Freeman's Bronzes into Bullets makes important and original contributions to a number of fields: memory studies, cultural history, political and economic history, and the history of fine art. An original and sophisticated book, it provides a highly valuable reassessment of Vichy practices versus discourses, a fascinating investigation into the history of amnesias, and a window into the dynamics of collaboration, opposition, and compromise."Eric Jennings, University of Toronto

"Bronzes into Bullets builds upon impressive archival research, much of it conducted in French provincial archives. Freeman advances a number of compelling arguments: about the role of Vichy officials in the destruction of public statuary; the lack of concern for the statues among many Parisians; French regionalism in the 1940s; how political rather than aesthetic considerations provided the main criterion for saving statues, and more. The photographs constitute a kind of visual evidence that is central to the discussion, and the book that emerges is a very handsome one."Jonathan Petropoulos, Center for the Study of the Holocaust, Genocide, and Human Rights, Claremont McKenna College