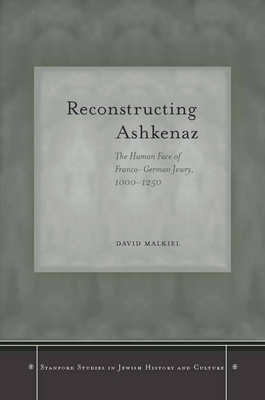 Reconstructing Ashkenaz
The Human Face of Franco-German Jewry, 1000-1250 (Stanford Studies in Jewish History and Culture)
Hardcover

* Individual store prices may vary.
Description
Reconstructing Ashkenaz shows that, contrary to traditional accounts, the Jews of Western Europe in the High Middle Ages were not a society of saints and martyrs. David Malkiel offers provocative revisions of commonly held interpretations of Jewish martyrdom in the First Crusade massacres, the level of obedience to rabbinic authority, and relations with apostates and with Christians. In the process, he also reexamines and radically revises the view that Ashkenazic Jewry was more pious than its Sephardic counterpart.
Praise For Reconstructing Ashkenaz: The Human Face of Franco-German Jewry, 1000-1250 (Stanford Studies in Jewish History and Culture)…
"Beautifully produced book."—Harvey J. Hames, Speculum

"Malkiel's meticulous summary and evaluation of the extensive modern scholarship are of great value; his broader set of arguments is an important and welcome contribution toward recasting the image and historiography of medieval Franco-German Jewish society. This work is a wonderful and significant resource for the teaching and study of the medieval Ashkenazic community."—Ethan Zadoff, AJS

"Malkiel documents clearly the past and current historiography, quoting judiciously from all the major Jewish historians of the 20th century and of this generation. He provides a clear, well-documented, well-written, and interesting summary of the major issues of the formative period of Ashkenazic Jewry and its heyday. Recommended for academic libraries with Jewish studies programs."—Roger S. Kohn, AJL

"This is an interesting, attractive, and unusually well-written book. Malkiel's research reveals a culture that was deeply conflicted over the choice between martyrdom and apostasy, one whose members' daily conduct deviated from halakhic norms on a whole host of issues, and whose relations with the Christian majority were deep, pervasive, intimate, and complex. This new picture undermines many of the ways in which Ashkenaz has been constructed by historians as an opposing cultural model to Sepharad: exclusionary vs. assimilationist; religious vs. philosophical; mystical vs. skeptical; halakhically rigorous vs. halakhically lax."—Robert Stacey, University of Washington, Seattle

"In this telling commentary on Franco-German Jewry during the High Middle Ages, David Malkiel examines old stereotypes, separating the fact from the myth. In this process, he paints a vivid portrait of what life was really like for Franco-German Jewry during this period, and he sets the historical record straight." —The Jewish Eye
Stanford University Press, 9780804759502, 376pp.
Publication Date: October 10, 2008
About the Author
David Malkiel teaches in the Department of Jewish History, Bar-Ilan University, in Israel.