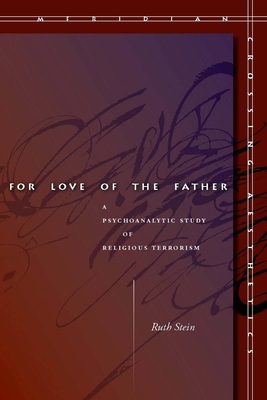 For Love of the Father (Hardcover)
A Psychoanalytic Study of Religious Terrorism (Meridian: Crossing Aesthetics)
Stanford University Press, 9780804763042, 245pp.
Publication Date: October 28, 2009
Other Editions of This Title:
Paperback (10/28/2009)
* Individual store prices may vary.
Description
Ruth Stein's pioneering study explains suicidal terrorism from a psychoanalytic perspective. She argues that most Islamic extremists undertake destructive and self-destructive actions not out of blind hatred, nor even for political gain, but to achieve an explosive merger with a transcendent awesome Father, God. The extremist is thus motivated more by his love for God than his hatred of the infidel. The contemporary Islamic terrorist kills "God's enemies" to express his intoxication with and complete submission to the God-idea. Stein further shows that this same leitmotif of filial submission and sacrifice runs through patriarchal monotheism in general.
About the Author
Ruth Stein is Associate Professor in New York University's Postdoctoral Program in Psychotherapy and Psychoanalysis and a clinical psychologist and psychoanalyst. She is the author of Psychoanalytic Theories of Affect (1991; 1999).
Praise For For Love of the Father: A Psychoanalytic Study of Religious Terrorism (Meridian: Crossing Aesthetics)…
"[Stein was] a brilliant and original thinker . . . After the September 11, 2001 suicide bombings, President Bush declared that the perpetrators 'hated' Americans. Ruth Stein suggests that this was not the case. Rather, the suicide bombers were driven by love of God."—Richard A. Koenigsberg, Library of Social Science

"This superb book, based on a great deal of original scholarship and the marvelous integration of socio-political, relational psychoanalytic, and Lacanian thought, is illuminating and a delight to read. Stein has more success than any other I have read in this field in stepping inside the unconscious mind of the terrorist. Her argument is carefully crafted and the understanding of evil that emerges is remarkably profound." —Peter Fonagy, University College, London

"With this highly original and deeply thoughtful analysis of fundamentalism and destructiveness, Ruth Stein offers a most innovative and incisive use of psychoanalytic theory as well as its daily practice. Rare among psychoanalysts, Stein is able to keep a dual focus, to move persuasively between clinical vignettes and the sociocultural world . In so doing, she illuminates the perverse adoration of and submission to a powerful father figure as a solution to the problem of self-hate and the pathology of patriarchal power. Even as readers will be drawn to Stein's prose, sparkling with brilliant insight and imagination, they will be arrested and compelled by Stein's unflinching examination of the dynamics of fundamentalism. Her nuanced efforts to distinguish the sacred from the submissive, ritual from rigidity, to define where religion ends and fanaticism begins, challenge us to struggle with a level of discomfiting complexity that is too often avoided. For Love of the Father is a book that above all strives to let us use psychoanalysis at its most creative edge to 'live the questions' we cannot yet answer."—Jessica Benjamin, New York University

"This book is the major psychoanalytic statement we need on this issue. Until we understand the terrorist mind we will be unable to combat it. Here is the first step toward such an understanding. Ruth Stein shows that the psychoanalytic way of thinking about political and religious issues is alive and well—and of utter importance to our understanding. The book is replete with striking insights into this dark subject. A must read." —Walter A. Davis, Ohio State University

"In this scholarly and compelling exploration of the psychology of religious fundamentalism, Ruth Stein provides us with an account that is breathtakingly original. Combining a sophisticated and clinically grounded command of psychoanalytic thinking with a broad interdisciplinary reach and a direct examination of the writings of Islamic terrorists, Stein's analysis displays a depth of understanding that resonates at both intellectual and emotional levels. She has an uncanny ability to put into words insights that possess a kind of primordial plausiblity, and that capture the passion and urgency of fundamentalist experience, while at the same time subjecting it to rigorous and exacting analysis."— Jeremy D. Safran, New School for Social Research