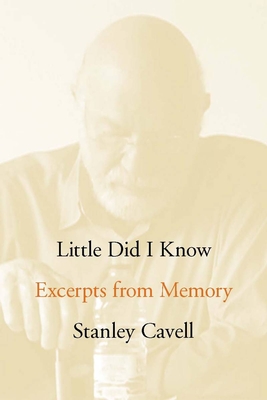 Little Did I Know (Hardcover)
Excerpts from Memory (Cultural Memory in the Present)
Stanford University Press, 9780804770149, 557pp.
Publication Date: October 1, 2010
* Individual store prices may vary.
Description
An autobiography in the form of a philosophical diary, Little Did I Know's underlying motive is to describe the events of a life that produced the kind of writing associated with Stanley Cavell's name. Cavell recounts his journey from early childhood in Atlanta, Georgia, through musical studies at UC Berkeley and Julliard, his subsequent veering off into philosophy at UCLA, his Ph.D. studies at Harvard, and his half century of teaching. Influential people from various fields figure prominently or in passing over the course of this memoir. J.L. Austin, Ernest Bloch, Roger Sessions, Thomas Kuhn, Robert Lowell, Rogers Albritton, Seymour Shifrin, John Rawls, Bernard Williams, W. V. O. Quine, and Jacques Derrida are no longer with us; but Cavell also pays homage to the living: Michael Fried, John Harbison, Rose Mary Harbison, Kurt Fischer, Milton Babbitt, Thompson Clarke, John Hollander, Hilary Putnam, Sandra Laugier, Belle Randall, and Terrence Malick. The drift of his narrative also registers the decisiveness of the relatively unknown and the purely accidental. Cavell's life has produced a trail of some eighteen published books that range from treatments of individual writers like Wittgenstein, Austin, Emerson, Thoreau, Heidegger, Shakespeare, and Beckett to studies in aesthetics, epistemology, moral and political philosophy, cinema, opera, and religion.
About the Author
Stanley Cavell is Walter M. Cabot Professor of Aesthetics and the General Theory of Value, Emeritus, at Harvard University.
Praise For Little Did I Know: Excerpts from Memory (Cultural Memory in the Present)…
"[S]tunning . . . What appears at first as a recapitulation of the themes of a life . . . reveals itself in its final pages, with breathtaking emotional force, as a farewell to the father as complex and elusive as it is ordinary . . . A master teacher."—Matthew Goulish, TDR: The Drama Review

"Alongside the memories themselves are many meditations on the art of remembering, of retelling stories. This is Cavell at his most philosophical, so it is compelling stuff . . . Writing, like philosophy, and like life, does not provide answers. Like all his works, these memoirs are intended to have a therapeutic effect—for the writer as well as the reader."—Katrina Forrester, Cambridge Literary Review

"Stanley Cavell's recent book, Little Did I Know: Excerpts From Memory, is an unusual and absorbing work of recollection . . . At the close of this magisterial, idiosyncratic and rewarding book, it is not easy to know where we have ended up. Yet it is a fascinating place to find ourselves."—Adam Gonya, Yearbook of the Irish Philosophical Society

"It is in [Cavell's] ability to intervene in his own storytelling to explain something further that the autobiography emerges as an important work of Cavellian philosophy . . . Little Did I Know takes on the challenge of using ordinary language to face a real threat, the actual end to the writer's thought. Thus, the memoir emerges not as a simple autobiography, but rather as the undertaking of the philosophical task Cavell has set, the attainment of peace through the repositioning of himself against his pending death . . . His autobiography becomes the marker of himself in history, the reminder to himself and to his readers that he exists in relation to all with which he interacts."—Alexanda Manglis, Oxonian Review

"Stanley Cavell's Little Did I Know belongs alongside other great works of self-examination that are also indispensable explorations of the human condition, books such as the Essais of Montaigne and the journals of Cavell's own beloved Emerson. Cavell's work has always been about the complexity of human life, and his own experience has always been present in his philosophy. His memoir deepens our understanding of both his life and his philosophy. It is a work of great particularity—Cavell's own life from Depression-era Atlanta to late twentieth-century Harvard—but also a work of profound universality, a thoughtful man's reflections on everything from fitting into his clothes and fitting into high school to finding friends, peers, love, personal calling, and social justice. This book is a treasure."—Paul Guyer, University of Pennsylvania
or
Not Currently Available for Direct Purchase