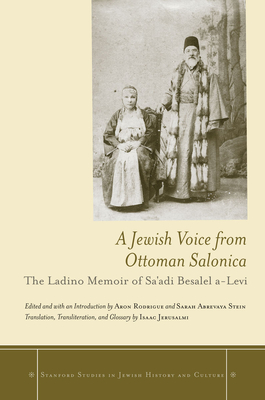 A Jewish Voice from Ottoman Salonica
The Ladino Memoir of Sa'adi Besalel A-Levi (Stanford Studies in Jewish History and Culture)
Hardcover

* Individual store prices may vary.
Other Editions of This Title:
Paperback (1/1/2013)
Description
This book presents for the first time the complete text of the earliest known Ladino-language memoir, transliterated from the original script, translated into English, and introduced and explicated by the editors. The memoirist, Sa'adi Besalel a-Levi (1820-1903), wrote about Ottoman Jews' daily life at a time when the finely wrought fabric of Ottoman society was just beginning to unravel. His vivid portrayal of life in Salonica, a major port in the Ottoman Levant with a majority Jewish population, thus provides a unique window into a way of life before it disappeared as a result of profound political and social changes and the World Wars. Sa'adi was a prominent journalist and publisher, one of the most significant creators of modern Sephardic print culture. He was also a rebel who accused the Jewish leadership of Salonica of being corrupt, abusive, and fanatical; that leadership, in turn, excommunicated him from the Jewish community. The experience of excommunication pervades Sa'adi's memoir, which documents a world that its author was himself actively involved in changing.
Praise For A Jewish Voice from Ottoman Salonica: The Ladino Memoir of Sa'adi Besalel A-Levi (Stanford Studies in Jewish History and Culture)…
"What an intellectual treat is this poignant epitaph for a lost civilization! . . . The editors and translators add to their odyssey of the manuscript their own biographical contributions to the academic revival and scholarly study of this lost Sephardi civilization, a welcome but sad memorial for a dried-up tributary of the Jewish stream. . . . Essential."—S. Bowman CHOICE

"We must be grateful to the two editors and the translator of this memoir for bringing a rare document back to life. Surviving the near-annihilation and dispersion of the Jews of Salonica over the last hundred years, this precious historical source offers a passionate portrait of the struggle between traditionalist and modernizing forces within the late-nineteenth-century Sephardic world. It is a gripping read and will advance the scholarly agenda of Sephardic studies."—Francesca Trivellato, Yale University

"Sa'adi Besalel a-Levi was a man who found himself at the threshold of momentous changes that would all but swallow everything that was familiar to him in the early decades of the twentieth century. Yet, rather than meditating nostalgically about a world that was fast disappearing, Sa'adi embraced change with enthusiasm. He hoped that the future that was dawning would be free of the shackles of tradition that held him and the Jewish community of Salonica back. His unusual conviction about the power of progress, his efforts to make intellectual sense of the transformations that surround him, his repeated clashes with those who held power over him, and his repeated disappointments make this an exceptionally engaging book. Aron Rodrigue, Sarah Abrevaya Stein, and Isaac Jerusalmi have done a marvelous job of translating, editing, and making accessible this uniquely valuable source. Their work enriches our understanding of the life of the Jewish communities in and around Salonica and beyond in the second half of the nineteenth century in a profound way."—Resat Kasaba, University of Washington

"How marvelous to have the first known memoir in Ladino so beautifully translated and explicated. Sa'adi, an Ottoman Jew, astute observer, and person of diverse accomplishments, lived through the better part of the long 19th century. His invaluable memoir, completed before the cataclysmic events of World War I and collapse of the Ottoman Empire, documents a world already in flux. The beauty of this memoir is the vividness with which Sa'adi conveys the very experience of change as someone who not only witnessed it but also lived and felt it. The reader can hear his voice and visualize what he describes in such telling detail. This is a book to read for the sheer pleasure of it and an accessible way to engage students new to the history of Ottoman Jews."—Barbara Kirshenblatt-Gimblett, New York University
Stanford University Press, 9780804771665, 432pp.
Publication Date: January 11, 2012
About the Author
At Stanford University, Aron Rodrigue is Charles Michael Professor in Jewish History and Culture, Anthony P. Meier Family Professor in the Humanities, and Director of the Stanford Humanities Center. Sarah Abrevaya Stein is Professor of History and Maurice Amado Chair in Sephardic Studies at UCLA.