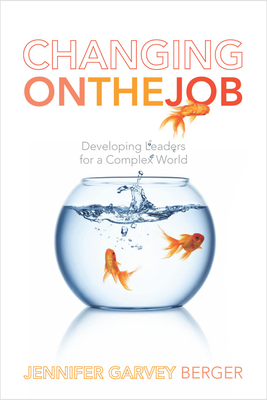 Changing on the Job (Hardcover)
Developing Leaders for a Complex World
Stanford Business Books, 9780804778237, 204pp.
Publication Date: November 30, 2011
Other Editions of This Title:
Paperback (3/1/2013)
* Individual store prices may vary.
Description
Listen to people in every field and you'll hear a call for more sophisticated leadership--for leaders who can solve more complex problems than the human race has ever faced. But these leaders won't simply come to the fore; we have to develop them, and we must cultivate them as quickly as is humanly possible. Changing on the Job is a means to this end.
As opposed to showing readers how to play the role of a leader in a "paint by numbers" fashion, Changing on the Job builds on theories of adult growth and development to help readers become more thoughtful individuals, capable of leading in any scenario. Moving from the theoretical to the practical, and employing real-world examples, author Jennifer Garvey Berger offers a set of building blocks to help cultivate an agile workforce while improving performance.
Coaches, HR professionals, thoughtful leaders, and anyone who wants to flourish on the job will find this book a vital resource for developing their own capacities and those of the talent that they support.
About the Author
Jennifer Garvey Berger uses her expertise in complexity of mind to support leaders around the world through coaching and leadership development programs. She is a Partner in Cultivating Leadership, a leadership development consultancy. For more information, please visit www.garveyberger.com.
Praise For Changing on the Job: Developing Leaders for a Complex World…
"A significant contribution towards re-imagining how we go about developing leaders. Jennifer invites leaders and those of us engaged in developing leaders to be more precise in our support and to think anew about the role that organizational context plays. This book calls on us to become more capable, agile, and better aligned with the increasing complexity of a global economy, while showing us how to stitch together an approach to our work that is fit for this task."—Sally DeWitt Miller, Director, Leadership Development Group, Microsoft Corporation

"People have been asking for years, 'Where can I go for a rich, practical, and incisive guide to the relationship between adult-developmental theory and coaching?' Now there is an answer. You are holding it, and when you start reading it, it will hold you."—Robert Kegan, Meehan Professor of Adult Learning and Professional Development, Harvard University Graduate School of Education, author of In Over Our Heads, and co-author of Immunity to Change

"What are the three hardest things in the world to do? How about: 1) transform the culture you're part of; 2) transform a meeting or conversation you're in; and 3) transform your own mind? Want to learn how? A great way to begin is to read Jennifer Garvey Berger's Changing on the Job and begin looking at your own work/life through the lenses she provides."—Bill Torbert, Boston College Leadership Professor Emeritus and Director of Research, Harthill Consulting Ltd.

"In increasingly complex times, it really matters that more people are able to think in complex ways. Jennifer Garvey Berger shows how we can change and grow, as adults and leaders, to better handle complexity in all aspects of our lives and work. The ideas in this book are critically important and Jennifer presents them as a compelling story."—Robyn Baker, CEO, New Zealand Council for Educational Research

"Destined to become a classic in the field, this is quite simply the best book on leadership and adult development out there. In addition to offering the clearest explication of adult development theory, this book breaks much needed ground in applying the deep insights of theory to practice, and in offering numerous suggestions for working with leaders to expand and transform their ability to cope with complexity. Managers, HR professionals, coaches and others involved in helping leaders grow to meet the demands of our day will greatly benefit from reading this book. So will their clients!"—William H. Hodgetts, Ed.D., Vice President of Enterprise Talent, Fidelity Investments