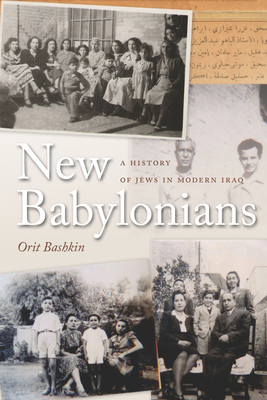 New Babylonians (Paperback)
A History of Jews in Modern Iraq
Stanford University Press, 9780804778756, 310pp.
Publication Date: September 12, 2012
Other Editions of This Title:
Hardcover (9/12/2012)
* Individual store prices may vary.
Description
This book explores a historical moment in which a Middle Eastern Jewish community not only adopted a new nation, Iraq, but a new ethnicity, Arabism-and its ultimate demise.
About the Author
Orit Bashkin is Associate Professor of Modern Middle East History at the University of Chicago. She is the author of The Other Iraq: Pluralism and Culture in Hashemite Iraq (Stanford, 2008).
Praise For New Babylonians: A History of Jews in Modern Iraq…
"This is a major contribution to the study of Iraqi Jews in modern times, shedding light on Jewish involvement in Iraqi intellectual and political life as part of the Iraqi nation until regional politics forced an abrupt breach and the annihilation of the community. The book is recommended for academic libraries with collections on Middle Eastern, Jewish and minorities' studies."—Rachel Simon, Association of Jewish Libraries

"Bashkin recounts the last chapter in the history of the oldest Jewish Diaspora community in the Arab world, in Baghdad. . . Recommended."—M. Gershovich, CHOICE

"New Babylonians is a meticulously researched and path-breaking treatment of a topic engaging several interlocking contested histories—Jews of Arab countries, the Arab-Israeli conflict, democracy and post-colonialism, and the Communist Parties of Iraq and Israel."—Joel Beinin, Middle East Journal

"Orit Bashkin's riveting new book is, without doubt, the first attempt at providing a full portrait of the rise and fall of the Baghdadi Jewish community in the course of the eventful 20th Century. The book is based on rich documentation, memoirs, communal, and school records. Bashkin's narrative is a shining example of solid scholarship and, at the same time, a coherent account of the vicissitudes of the modern history of a dynamic Arab-Jewish community the like of which is no more in evidence."—Sasson Somekh, author of Baghdad, Yesterday (2007)

"This remarkable book examines the tragic modern history of the oldest and most deeply rooted Jewish community in the Arab world. Bashkin succeeds in avoiding the many pitfalls which confront an author dealing with such a charged topic by deploying empathy, careful historical analysis and great rigor. This book should be welcomed by all those who seek to free themselves of the blinders imposed by different varieties of extreme nationalism, and as such should be welcomed by scholars everywhere."—Rashid Khalidi, Columbia University