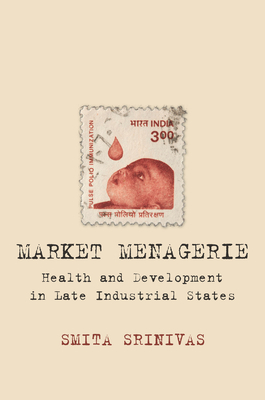 Market Menagerie (Hardcover)
Health and Development in Late Industrial States
Stanford Economics and Finance, 9780804780544, 323pp.
Publication Date: April 4, 2012
* Individual store prices may vary.
Description
Market Menagerie addresses the tensions between economic and social policies. This book explores how states, markets, and other institutions interact within the health industry-using India as a primary case study.
About the Author
Smita Srinivas is Assistant Professor in the Urban Planning program and the Director of the Technological Change Lab at Columbia University in New York City. She has advised and consulted with the UN and other international agencies, and with grassroots organizations, for over a decade.
Praise For Market Menagerie: Health and Development in Late Industrial States…
"Very interesting first hand research on the Indian biotechnology sector, and a fascinating review of diverse literature that the author connects in a unique way. This book speaks to the importance of integrating economic and social goals, which is particularly pertinent to developing countries."—Halla Thorsteinsdottir, Dalla Lana School of Public Health, University of Toronto

"It often is presumed that economic development more or less automatically brings with it better medical care and health to the population of a country. The case of India reveals just how untrue this is. In this fine book, Srinivas describes (in fascinating detail) why recent rapid economic development in India has not led to broad improvements in health, and provides a rich analysis of what is needed for improvement."—Richard R. Nelson, Professor Emeritus and Director of the Program on Science, Technology, and Global Development at the Columbia Earth Institute, Columbia University

"Smita Srinivas uniquely synthesizes three different perspectives in relation to developmental states: the provision of health services, the emergence of industrial economies, and the role of the state. Her highly original analysis constitutes a significant contribution to our understanding of the political economy of development."—Susan S. Fainstein, Harvard University and author of The Just City

"The author brilliantly situates her examination in the tension between the human dimension of 'national health reform' and the challenges of 'global governance' for the multinational corporate health sector.This allows her to make discoveries that a less nuanced framing would not. This framing also extends the significance of the book well beyond the case of India."—Saskia Sassen, Professor, Columbia University, and author of Territory, Authority, Rights: From Medieval to Global Assemblages

"With an emphasis on India, this book takes us inside the evolution of a critical sector: pharmaceuticals and biotechnology. Market Menagerie is an important reminder of the heterogeneity of states and markets that mediate the tension between industrialization and health access in developmental states."—Devesh Kapur, Director of the Center for the Advanced Study of India, University of Pennsylvania