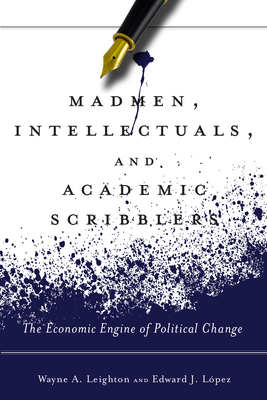 Madmen, Intellectuals, and Academic Scribblers (Hardcover)
The Economic Engine of Political Change
Stanford Economics and Finance, 9780804780971, 209pp.
Publication Date: November 21, 2012
Other Editions of This Title:
Paperback (7/1/2014)
* Individual store prices may vary.
Description
Madmen, Intellectuals, and Academic Scribblers presents a simple, economic framework for understanding the systematic causes of political change.
Wayne A. Leighton and Edward J. L pez take up three interrelated questions: Why do democracies generate policies that impose net costs on society? Why do such policies persist over long periods of time, even if they are known to be socially wasteful and better alternatives exist? And, why do certain wasteful policies eventually get repealed, while others endure? The authors examine these questions through familiar policies in contemporary American politics, but also draw on examples from around the world and throughout history.
Assuming that incentives drive people's decisions, the book matches up three key ingredients--ideas, rules, and incentives--with the characters who make political waves: madmen in authority (such as Franklin Delano Roosevelt and Margaret Thatcher), intellectuals (like Jon Stewart and George Will), and academic scribblers (in the vein of Friedrich Hayek and John Maynard Keynes). Political change happens when these characters notice holes in the structure of ideas, institutions, and incentives, and then act as entrepreneurs to shake up the status quo.
Praise For Madmen, Intellectuals, and Academic Scribblers: The Economic Engine of Political Change…
"Madmen raises serious questions about simple explanations of change—because it makes clear there are several necessary conditions for a political shift. We tend to think of change as resulting from a single hero or villain, but the story is more complex. The tales in this book show what it takes to effect change, while weaving a narrative that is entertaining and memorable."—Michael C. Munger, Duke University and author of Analyzing Policy

"Leighton and Lopéz supply intellectually sound arguments, grounded in public choice and of Austrian economics, to explain why democratic governments often fail to produce policies that are consistent with the public's interest. Drawing on sources from across history—from Plato and Aristotle to Friedrich Hayek, and James Buchanan—Madmen situates current policy debates in a context much wider than usual. Most impressive are the authors' evident grasp of—and ability to synthesize—complex arguments about the properties of 'good government.'"—William F. Shughart II, University of Mississippi and co-author of Policy Challenges and Political Responses

"Ideas matter. Madmen, with its engaging stories, is perfect for anyone interested in public policy, or how our world could be a better place. Read it, and assign it to your class."—Tyler Cowen, George Mason University, blogger at The Marginal Revolution, and author of Discover Your Inner Economist

"There's no shortage of writing about bad government policies, but Leighton and Lopez go several steps deeper, by exploring the incentives that foster bad policies, the institutions that foster bad incentives, the ideas that foster bad institutions, and the social processes that foster the spread of bad ideas. Better yet, they offer wise prescriptions for change and colorful stories to illustrate their wisdom. This is a book that manages all at once to be wise, important, and great fun to read. I highly recommend it."—Steven E. Landsburg, Professor of Economics, University of Rochester

"This book is an inspiring reminder that great thinking matters. It's a delightful, accessible, and thought-provoking book for anyone interested in big ideas at the intersection of economics and politics."—Charles Wheelan, University of Chicago and author of Naked Economics: Undressing the Dismal Science