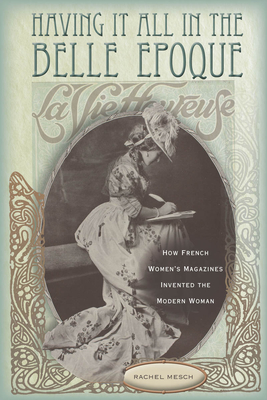 Having It All in the Belle Epoque (Hardcover)
How French Women's Magazines Invented the Modern Woman
Stanford University Press, 9780804784245, 264pp.
Publication Date: July 3, 2013
* Individual store prices may vary.
Description
At once deeply historical and surprisingly timely, Having it All in the Belle Epoque shows how the debates that continue to captivate high-achieving women in America and Europe can be traced back to the early 1900s in France. The first two photographic magazines aimed at women, Femina and La Vie Heureuse created a female role model who could balance age-old convention with new equalities. Often referred to simply as the "modern woman," this captivating figure embodied the hopes and dreams as well as the most pressing internal conflicts of large numbers of French women during what was a period of profound change. Full of never-before-studied images of the modern French woman in action, Having it All shows how these early magazines exploited new photographic technologies, artistic currents, and literary trends to create a powerful model of French femininity, one that has exerted a lasting influence on French expression. This book introduces and explores the concept of Belle Epoque literary feminism, a product of the elite milieu from which the magazines emerged. Defined by its refusal of political engagement, this feminism was nevertheless preoccupied with expanding women's roles, as it worked to construct a collective fantasy of female achievement. Through an astute blend of historical research, literary criticism, and visual analysis, Mesch's study of women's magazines and the popular writers associated with them offers an original window onto a bygone era that can serve as a framework for ongoing debates about feminism, femininity, and work-life tensions.
Praise For Having It All in the Belle Epoque: How French Women's Magazines Invented the Modern Woman…
"Mesch illuminates both the context that produced the paradox of 'having it all' and the difficulties that arose as a result. Her book opens a window onto a distant and relatively unknown past, all the while shedding light on debates that are still very much alive today."—Susan Hiner, Vassar College

"For too long, we have tended to view the Belle Epoque through the prism of the feminism of our own day—how it measures up or falls short of current standards. By linking women's magazines of the time to novels, visual imagery, and cultural practices, Mesch breaks out of this straitjacket, offering the most insightful and thorough examination of that space to date."—Lenard R. Berlanstein, University of Virginia