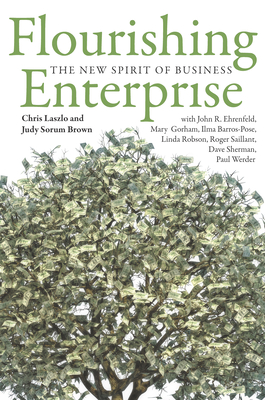 Flourishing Enterprise (Hardcover)
The New Spirit of Business
Stanford Business Books, 9780804789134, 235pp.
Publication Date: August 27, 2014
* Individual store prices may vary.
Description
The notion of responsible business has infiltrated our markets, and "going green" is now a part of our mindset. But, sustainability as we know it is not enough. Flourishing--the aspiration that humans and life in general will thrive on the planet forever--should be a key goal for every business today. This is a bold concept, like sustainability was a decade ago. Just as sustainability has become a matter of course, so too will flourishing become a cornerstone of business tomorrow. How are companies to attain this big-picture goal? Drawing together decades of research along with in-depth interviews, Flourishing Enterprise argues that many strategic, organizational, and operational efforts to be sustainable reach the potential of flourishing when they incorporate one additional ingredient: reflective practices. Offering more than a dozen such practices, this book leads readers down a path to greater business success, personal well-being, and a healthier planet. Readers will find that adding reflective practices to existing business efforts does not require more work; it simply changes the way we do our work and, more importantly, the results we achieve. Cultivating emotional and spiritual health is the next frontier; this future-oriented guide develops these core competencies while stretching the ongoing conversation about profitable, sustainable business.
About the Author
Chris Laszlo is Associate Professor at Case Western Reserve University's Weatherhead School of Management, where he is Faculty Research Director at the Fowler Center for Sustainable Value. A Visiting Associate Professor at Claremont Graduate University's Drucker School of Management, he is co-founder of Sustainable Value Partners and author of Embedded Sustainability, Sustainable Value, and The Sustainable Company. Judy Sorum Brown is a poet and leadership educator. She is the author of A Leader's Guide to Reflective Practice and The Art and Spirit of Leadership. She is a Senior Fellow in the School of Public Policy at the University of Maryland and Distinguished Senior Fellow at Case Western Reserve University's Fowler Center for Sustainable Value. She has served as a White House Fellow and as Vice President of the Aspen Institute.