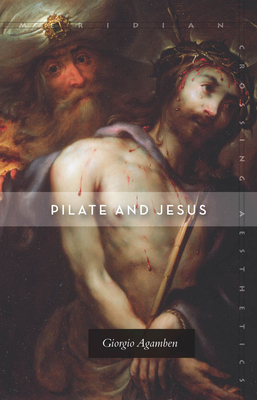 Pilate and Jesus (Meridian
Crossing Aesthetics)
Paperback

* Individual store prices may vary.
Other Editions of This Title:
Hardcover (2/4/2015)
Description
Pontius Pilate is one of the most enigmatic figures in Christian theology. The only non-Christian to be named in the Nicene Creed, he is presented as a cruel colonial overseer in secular accounts, as a conflicted judge convinced of Jesus's innocence in the Gospels, and as either a pious Christian or a virtual demon in later Christian writings. This book takes Pilate's role in the trial of Jesus as a starting point for investigating the function of legal judgment in Western society and the ways that such judgment requires us to adjudicate the competing claims of the eternal and the historical. Coming just as Agamben is bringing his decades-long Homo Sacer project to an end, Pilate and Jesus sheds considerable light on what is at stake in that series as a whole. At the same time, it stands on its own, perhaps more than any of the author's recent works. It thus serves as a perfect starting place for readers who are curious about Agamben's approach but do not know where to begin.
Stanford University Press, 9780804794541, 84pp.
Publication Date: February 4, 2015
About the Author
Giorgio Agamben is a contemporary Italian philosopher and political theorist whose works have been translated into numerous languages. His most recent title with Stanford University Press is Opus Dei (2013).