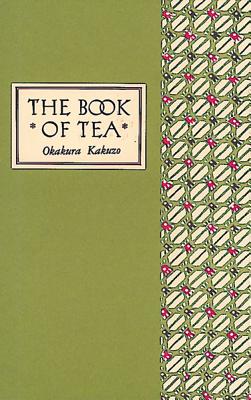 The Book of Tea Classic Edition
Hardcover

* Individual store prices may vary.
Other Editions of This Title:
Hardcover (4/6/2021)
Paperback (8/14/2018)
Paperback (3/1/2008)
Paperback (3/30/2014)
Paperback (9/1/2008)
Paperback (9/1/2004)
Paperback (11/23/2017)
Paperback (5/16/2009)
Description
Now available in a gorgeous hardcover slipcase edition, this object d'art will be sure to add grace and elegance to tea shelves, coffee tables and bookshelves. A keepsake enjoyed by tea lovers for over a hundred years, The Book of Tea Classic Edition will enhance your enjoyment and understanding of the seemingly simple act of making and drinking tea. In 1906 in turn-of-the-century Boston, a small, esoteric book about tea was written with the intention of being read aloud in the famous salon of Isabella Gardner, Boston's most notorious socialite. It was authored by Okakura Kakuzo, a Japanese philosopher, art expert, and curator. Little known at the time, Kakuzo would emerge as one of the great thinkers of the early 20th century, a genius who was insightful, witty--and greatly responsible for bridging Western and Eastern cultures. Okakura had been taught at a young age to speak English and was more than capable of expressing to Westerners the nuances of tea and the Japanese Tea Ceremony. In The Book of Tea Classic Edition, he discusses such topics as Zen and Taoism, but also the secular aspects of tea and Japanese life. The book emphasizes how Teaism taught the Japanese many things; most importantly, simplicity. Kakuzo argues that tea-induced simplicity affected the culture, art and architecture of Japan. Nearly a century later, Kakuzo's The Book of Tea Classic Edition is still beloved the world over, making it an essential part of any tea enthusiast's collection. Interwoven with a rich history of Japanese tea and its place in Japanese society is a poignant commentary on Asian culture and our ongoing fascination with it, as well as illuminating essays on art, spirituality, poetry, and more. The Book of Tea Classic Edition is a delightful cup of enlightenment from a man far ahead of his time.
Praise For The Book of Tea Classic Edition…
"In some ways, times haven't changed much in the 99 years since Kakuzo Okakura, the Japanese aesthete, gifted the local elite of Boston with his now-legendary explication of the beauties of the tea ceremony, The Book of Tea."—Elle Decor

"Originally written to be read aloud by the author at Isabella Stewart Gardner's famous salon in 1906, the book focuses on the culture that has engendered the mind of tea and on the Masters who embody this spirit."—Gourmet Retailer
Tuttle Publishing, 9780804800693, 160pp.
Publication Date: December 15, 1989
About the Author
Okakura Kakuzo (1862-1913) devoted his life to teaching, art, Zen, and the preservation of Japanese art and culture, working as an ambassador, teacher, writer, and, at the time of his death, as the Curator of Chinese and Japanese Art at the Boston Museum.