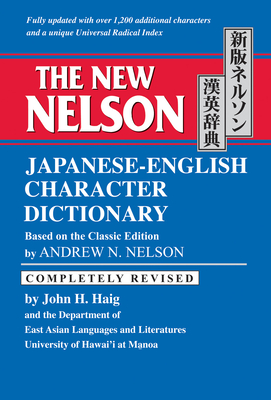 The New Nelson Japanese-English Character Dictionary
Hardcover

* Individual store prices may vary.
Description
Unexcelled as a dictionary of basic Sino-Japanese characters. Extremely easy to use.--Japan Society
This is the utmost classic and well regarded standard Japanese Kanji Dictionary available today.
The
New Nelson Japanese-English Character Dictionary
is a complete revision of
The Original Reader's Japanese-English Character Dictionary
, published by Charles E. Tuttle Company in 1962. Long the foremost Japanese-English character dictionary, adopted by Japanese-study programs around the world and used at all levels of Japanese language study, the Nelson, as it is familiarly called, has been enhanced in this edition with several fundamental changes.
The Universal Radical Index, an significant advance on the traditional character indices, has been created as a handy appendix that enables users to search for any main-entry character's reference number in Morohashi's Dai Kanwa Jiten.
Over 1,200 characters have been added and more than 2,000 new on-kun entries included.
Definitions have been modernized to reflect current usage and translation.
This revised edition is updated with additional characters, contemporary definitions, and an innovative radical index system and sets new standards of excellence, easy-of-use, and reliability for Japanese language reference tools. This edition keeps pace with the evolution of the Japanese language and remains an indispensable tool for students and scholars of Japanese.
Tuttle Publishing, 9780804820363, 1616pp.
Publication Date: September 15, 1997
About the Author
Andrew Nathaniel Nelson was born in Great Falls, Montana, in 1893. He received his B.A. from Walla Walla College and his Ph.D. from the University of Washington. As a Seventh-Day Adventist missionary in Asia between 1918 and 1961, Dr. Nelson played a prominent role in the fields of education and language training. Throughout his life, Dr. Nelson remained devoted to the study of the Japanese language and the fundamentals of Chinese. John H. Haig is an associate professor of Japanese in the Department of East Asian Languages and Literatures at the University of Hawai'i at Manoa, one of the largest departments of its kind in the U.S.