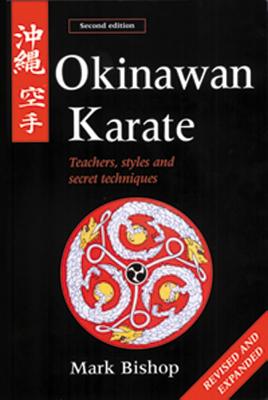 Okinawan Karate
Teachers, Styles and Secret Techniques
Paperback

* Individual store prices may vary.
Description
From their roots in China, the historical development of each karate and kobudo system--Okinawa's greatest cultural export--is presented here via the teachers who formulated them into the many fragmented styles practiced today throughout the world.
Okinawan Karate: Teachers, Styles and Secret Techniques
, written by one of the foremost writers on Japanese martial arts, specifically Okinawan, presents important elements of the fighting arts as a whole, along with the ins and outs of health-oriented training and the secrets of developing intrinsic energy (
ki
) circulation. This updated and revised edition reflects the rapid changes that have occurred within the Okinawan martial arts. Features in this Okinawan karate book include historical tables and vital striking point charts, as well as detailed historical information and an account of the contemporary karate, kobudo, and ti (or te) scene in Okinawa. Sections include:
Styles based on Chinese boxing systems—Jukendo, Goju-ryu, Kojo-ryu
The Shorin Styles--Ishimine-ryu, Shorin-ryu (Shaolin), Okinawa Kenpo
The Kobudo and the Ti Styles--Honshin-ryu, Ryukyu kobudo, Begeikan
and more
Tuttle Publishing, 9780804832052, 176pp.
Publication Date: October 15, 1999
About the Author
Mark Bishop lived in Okinawa for more than fifteen years, studying with, interviewing, and writing about many of the best-known Okinawan martial arts masters. Married to the daughter of a prominent Okinawan religious leader, he has been allowed unusual access to the inner teachings and opinions of many of the masters he has encountered. Upon his return to England, he established himself as an in-demand martial arts lecturer and teacher. He is the author of Zen Kobudo and writes extensively for martial arts magazines. He lives in Sussex, England.