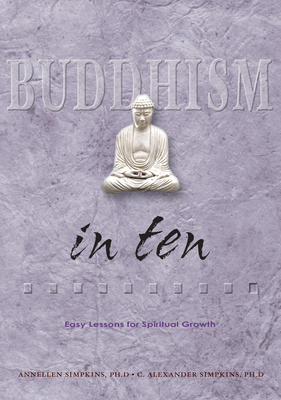 Buddhism in Ten (Ten Easy Lessons)
Paperback

* Individual store prices may vary.
Description
Filled with simple exercises and thought-provoking lessons, this Buddhist instructional book will help you get started on the Buddhist path of moderation, mindfulness, and enlightened living.
More than any other introduction to Buddhism,
Buddhism in Ten
provides readers with the understanding and tools they need to live a deeper and fuller life along Buddhist principles. Ten lessons, each inspired by an aspect of Buddhism, show how to incorporate this Eastern philosophy into your daily life. Each lesson is enhanced with several exercises--some physical, some mental, and some spiritual.
Simple lessons show you how to:
Develop a sense of clarity through Right Meditation
Understand and accept your own experiences through the Four Noble Truths
Enrich everyday life with Right Mindfulness
Remove obstacles to a spiritually enlightened life--and reveal your own Buddha nature
The Buddhist tradition can help you develop a life of wisdom, awareness, and compassion. With its thorough, accessible exploration of Buddhist philosophy and practice, this book can guide you to a more rewarding, more joyful life.
Tuttle Publishing, 9780804834520, 160pp.
Publication Date: November 15, 2003
About the Author
Drs. C. Alexander and Annellen Simpkins have been involved with Eastern philosophy for over thirty years. They were first introduced to these ideas through the practice of martial arts which they began in the 1960s, and their interest continued to deepen over time. As psychologists they have specialized in studies of the mind as well as hypnosis. They are authors of numerous books on Eastern philosophy including a series on meditation: Principles of Meditation, Living Meditation and Meditation from Thought to Action, a historical and practical book on Zen entitled Zen Around the World, and the Simple series on different Eastern philosophies: Simple Zen, Simple Taoism, Simple Confucianism, Simple Buddhism, and Simple Tibetan Buddhism. They have two grown children and reside in San Diego, California.