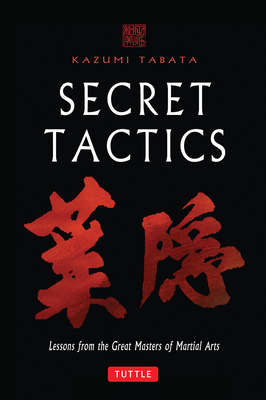 Secret Tactics
Lessons from the Great Masters of Martial Arts
Hardcover

* Individual store prices may vary.
Description
This invaluable martial arts philosophy handbook presents ancient wisdom for contemporary readers. Secret Tactics contains brilliant new interpretations of fundamental works of strategy and martial arts tactics by Miyamoto Musashi, Gichin Funakoshi, Yamamoto Tsunetomo, and various martial arts tomes. It distills the crucial teachings on leadership, character and values found in those books. Readers will unlock the secrets of their art and self. These and a dozen other essays on strategy, combat tactics, psychology, leadership, good character, and the exercise of power, make Secret Tactics an indispensable resource for students of Asian culture, martial artists, and corporate executives.
Praise For Secret Tactics: Lessons from the Great Masters of Martial Arts…
"The 160 pages of this book published by Tuttle Publishing contain a lot of sound advice and wisdom."—Herald-Star
Tuttle Publishing, 9780804834889, 160pp.
Publication Date: August 15, 2003
About the Author
Kazumi Tabata is a Grandmaster (8th-degree black belt) in the Shotokan style of Japanese karate. He established and is the Chief Instructor of the North American Karate Federation and the New England Collegiate Karate Conference. He has trained karate clubs in Europe, Africa, and Bermuda. He's the author of several books, including Mind Power and Warrior Wisdom.