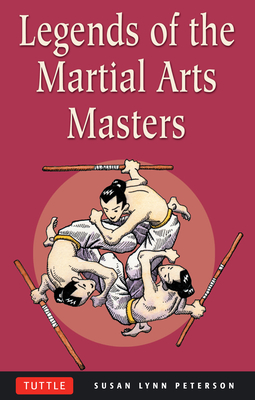 Legends of the Martial Arts Masters (Paperback)
Tuttle Publishing, 9780804835183, 120pp.
Publication Date: September 15, 2003
* Individual store prices may vary.
Description
Whether you're an inspiring black belt or just a fan of martial arts action, you'll enjoy this collection of twenty exciting stories about the great heroes of the martial arts. The stories include dramatic victories, wily strategies, and triumphs over long odds--from the great Tsukahara Bokuden's cunning defeat of a troublemaking samurai to Wing Chun's brave self-defense against a brutish warlord. Children can read about Robert Trias, known as the father of American karate and Miyamoto Musashi, known as the greatest sword fighter in history and the author of the bestselling
Book of Five Rings
. Filled with action and amazing feats of martial arts wizardry,
Legends of the Martial Arts Masters
will inspire readers with stories of courage, combat, and self-discovery. Stories include:
The General Fights a Bull
The Great Wave
The Hard Way to Find a Teacher
The Three Sons
The Style of No Sword
A Bully Changes His Ways
The Ballad of Mu-lan
Twelve Warriors of Burma
Wing Chun
The Eighteen Hands
And many more...
About the Author
Susan Lynn Peterson is a professional writer and Gold Medallion Book Award finalist. She holds a third-degree black belt in Okinawan Shuri-ryu karate and is a USA Karate Federation national champion. She has studied karate, kobudo, Shaolin Chuan Fa, and Tai Chi Chuan, and has taught karate and kobudo at KoSho Karate San in Tucson Arizona. Her magazine articles have appeared in Black Belt, New Body, and Fighting Woman News.