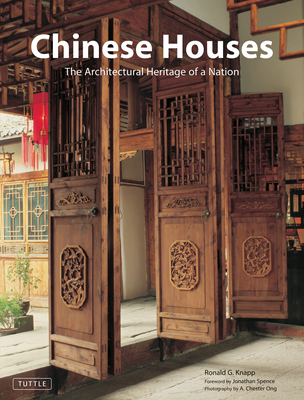 Chinese Houses (Hardcover)
The Architectural Heritage of a Nation
Tuttle Publishing, 9780804835374, 288pp.
Publication Date: January 15, 2006
* Individual store prices may vary.
Description
Winner of ForeWord Magazine's Architecture "Book of the Year" Award Exquisite examples of traditional dwellings are scattered throughout modern-day China. Chinese Houses focuses on 20 well-preserved traditional Chinese homes, presenting examples from a range of rural and metropolitan areas throughout China. The photographs of each are accompanied by extensive background information and historical content. An introductory essay examines the different types of Chinese homes and provides an overview of the rich regional variety of Chinese dwelling forms. It also provides insights into little-known design concepts that emphasize the flexibility, adaptability, and versatility of traditional building forms and the work of classical craftsmen. Richly illustrated with photographs, woodblock prints, historical images, and line drawings, Chinese Houses portrays an architectural tradition of fantastic range and resilience.
About the Author
Ronald G. Knapp, Distinguished Professor Emeritus at SUNY, New Paltz, is the author of numerous books on China's cultural and historical geography, including Asia's Old Dwellings: Tradition, Resilience, and Change (2003), China's Old Dwellings (2000), and China's Walled Cities (2000).
Praise For Chinese Houses: The Architectural Heritage of a Nation…
"Chinese Houses examines traditional dwellings from a Ming dynasty manor to Mao's boyhood home."—Elle Decor

"When a house is used as a museum or tourist site, it loses its vitality, and with no chance to grow and develop, it becomes fossilized. Judging by the eagerness of officials at every level of the government to 'regenerate' the cities...this could be the only way to preserve the old dwellings of China. This book, illustrated with many beautiful photographs and drawings, could serve as the best guide for preserving China's heritage."—Orientations

"This scholarly, detailed work, beautifully illustrated with historic black-and-white photos, contemporary color photos, floor plans, and elevations, is recommended for large collections."—Library Journal

"Ronald G. Knapp...based this exhaustive book on 40 years of research in the Chinese countryside."—Icon World Monuments

"Packed with color photos of both interior and exterior dTcor, Chinese Houses also presents an in-depth survey of the rituals, culture, ornamentation influences, and floor plans of homes across China, from urban to rural dwellings. If it's a strong in-depth history of Chinese home architecture which is desired, look no further than the gorgeous Chinese Houses: it's much more than the coffee table picturebook it appears a first glance."—Midwest Book Review