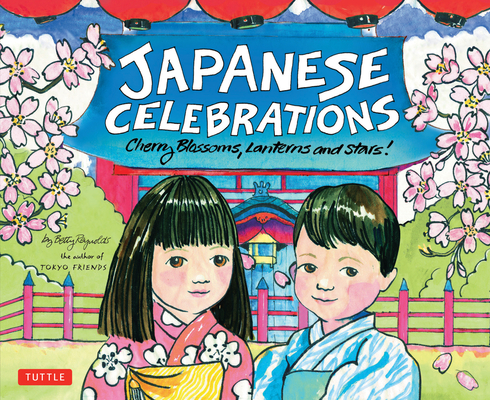 Japanese Celebrations
Cherry Blossoms, Lanterns and Stars!
Hardcover

* Individual store prices may vary.
Description
This multicultural children's book is full of Japanese holidays, culture, language and stories!

The people of Japan love to celebrate. In fact, they love it so much they have a day of celebration, whether it's a change in season, a religious observance, or just a special moment in life, every month of the year. Brimming with ancient traditions, exotic decorations, and delicious, seasonal foods, Japanese Celebrations will take you on a month-by-month tour of some of Japan's best-loved festivals.
Beautifully illustrated and full of fascinating facts about Japanese holidays and celebrations, this 48-page picture book offers a vivid picture of some of Japan's most festive events including New Year's, Children's Day, Cherry Blossom Season, Harvest Moon Viewing, Christmas in Japan and much more.

With simple but informative text and illustrations that explain the significance of the dress, decoration, food, gifts and activities associated with these events, Japanese Celebrations promises to delight and educate young readers and parents alike.
Praise For Japanese Celebrations: Cherry Blossoms, Lanterns and Stars!…
"By the writer-illustrator of Tokyo Friends and Squeamish about Sushi, this profusely illustrated book presents celebrations enjoyed by Japanese children. Occasionally, a craft, activity, or song appears in this colorful, child-friendly book." —Booklist

"Colorful illustrations show people participating in worship at temples and shrines...Other traditional pastimes are shown as well, such as card games and kite flying." —School Library Journal

"This is a great book for children 5 years and older to get a glimpse into the Japanese culture and language. It helps kids recognize that kids all over the world love celebrating holidays with friends and family!" —Schools 'N More blog

"…this gorgeous book is a breath of fresh air both in content and art work. […] Having been a teacher for most of my professional career, I found this beautifully-designed and fact-filled book to provide a plethora of history, religion, rites, myth, song and dance that any educator of children, ages 7-12 would be excited to utilize…" —Grammy's Gang blog

"…a book filled with Japanese holidays, culture, language, and interesting cultural stories…Japanese Celebrations, written and illustrated by Betty Reynolds, is filled with wonderful and vibrant illustrations, and is easy to read through." —Pintsize Gourmets blog
Tuttle Publishing, 9780804836586, 48pp.
Publication Date: January 15, 2006
About the Author
Betty Reynolds was an art director for an advertising agency for 22 years. She has lived in Singapore and Tokyo and currently resides in Philadelphia, PA and the Seattle area.