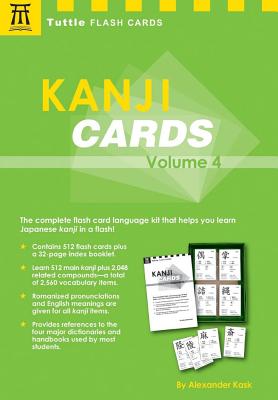 Kanji Cards Kit Volume 4
Paperback

* Individual store prices may vary.
Description
Kanji Cards Volume 4 is the fourth and final installment in the Tuttle Kanji Cards series. It presents the student with the most advanced and complex kanji. Building on the foundation established in the first three volumes, Kanji Cards Volume 4 utilizes a highly acclaimed methodology that has become the gold standard for kanji learning for thousands of students worldwide. The four volumes in this set present all 1,945 characters that the Japanese Ministry of Education has determined one needs to read and write Japanese (the kanji). On each Joyo card, the basic readings and uses for each character as verbs and adjectives are described in detail along with various meanings of the character as a noun. The radicals used to organize the kanji and the individual graphic elements that make up the remainder of a character are clearly presented for each character-essential information that helps the student master the kanji more effectively. In total, the four volumes also present 7,700 compound vocabulary items-words that have been carefully compiled to reflect the vocabulary most frequently used in everyday conversation, thus enabling the user to greatly increase his vocabulary and mastery of the Japanese language.
Tuttle Publishing, 9780804836869
Publication Date: October 15, 2006
About the Author
Alexander Kask is a practicing lawyer in Canada. He received a B.A. degree in 1991, and a B. Laws degree in 1999. He is the author of Kanji Cards: Volumes 1, 2, 3 and the bestselling Japanese for the Martial Arts. Alex is also an accomplished martial artist and instructor of Classical Jujutsu.
or
Not Currently Available for Direct Purchase