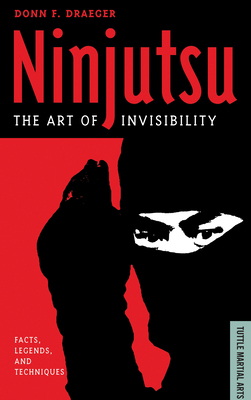 Ninjutsu (Paperback)
The Art of Invisibility (Facts, Legends, and Techniques) (Tuttle Martial Arts)
Tuttle Publishing, 9780804839372, 143pp.
Publication Date: May 15, 2008
* Individual store prices may vary.
Description
All the facts, legends and technique of the ninja are presented here y one of the foremost authorities on the subject.
The Ninja, also known as Shinobi, inspired awe and terror in equal measure. Master of espionage and assassination, stealth and concealment, the ninja's ability to move swiftly and silently gave rise to popular legends of amazing exploits, invincibility and supernatural powers. In
Ninjutsu: The Art of Invisibility
, Donn Draeger draws back the veil of mystery shrouding the arcane practices of feudal Japan's shadow warriors. Stripping away myth and exaggeration, Draeger reveals the secret tactics, exotic weapons, tricks and disguises that earned the ninja a reputation as history's most feared secret agents. Chapters include:
Entering the World of the Ninja
History and Organization
Training and Skills
Operating Techniques
Costume
Tools and Weapons
Tactics, Ruses, and Feats
Facts and Legends
About the Author
Donn F. Draeger was a Western pioneer in the practice of Japanese martial arts. His works include Judo Training Methods, Judo Formal Techniques and Shaolin Lohan Kung-Fu.
or
Not Currently Available for Direct Purchase