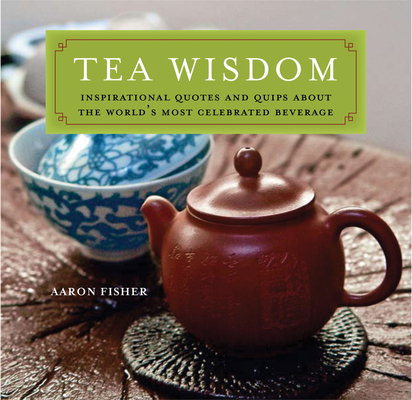 Tea Wisdom
Inspirational Quotes and Quips about the World's Most Celebrated Beverage
Paperback

* Individual store prices may vary.
Description
This book is a beautiful collection of quotes, pictures, and illustrations on the topic of tea.
If you are cold, tea will warm you. If you are too heated, it will cool you. If you are depressed, it will cheer you. If you are excited, it will calm you.--
Gladstone
Some of life's greatest pleasures can be found in the simple things, and there is nothing more basic, yet wonderful than enjoying a steaming cup of tea on a damp, rainy day. Tea Wisdom is a masterful book of tea and a wonderful collection of tea quotes, drawn from different centuries and parts of the world, celebrating the ability of tea to calm the nerves, enliven the mind and strengthen the spirit. Covering the full range of a tea lover's appreciation for this most celebrated of beverages,
Tea Wisdom
makes for a lovely treat. Included in
Tea Wisdom
are:
Hundreds of delightful quotes about tea
Wisdom from experts of Japanese tea, Chinese tea, Western tea and beyond
Dozens of beautiful and unique photographs of tea and the tea ceremony
Dozens of classical and original illustrations of tea
Tea aficionados will find this book to be an indispensable part of their collection. Compact enough to fit easily on a table or in a handbag, but extensive enough to provide hours of enjoyment,
Tea Wisdom
is will soon have you reaching for another cup of tea.
Tuttle Publishing, 9780804839785, 240pp.
Publication Date: April 22, 2009
About the Author
Aaron Fisher was born in Ohio. He traveled the world extensively before settling in Taiwan where he currently resides. Fisher is a co-founder and the editor-in-chief of the online magazine The Leaf and a senior editor for The Art of Tea magazine.