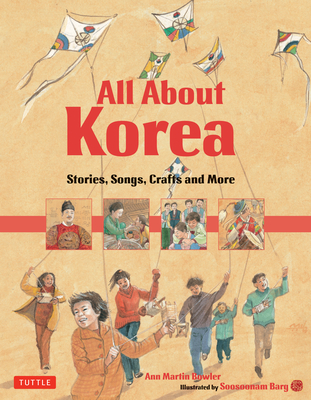 All about Korea (Hardcover)
Stories, Songs, Crafts and More
Tuttle Publishing, 9780804840125, 64pp.
Publication Date: April 10, 2011
Other Editions of This Title:
Hardcover (4/17/2018)
* Individual store prices may vary.
Description
**2012 Creative Child Magazine Preferred Choice Award Winner**
Perfect for educators or parents wishing to teach kids about different Asian cultures, this new book in the Tuttle
All About Asia
series includes favorite games, foods, special holiday times and after-school activities unique to Korea.
All About Korea
is a fun-filled journey to a new place. Korean culture and history are featured prominently in this colorful Korean book for kids, allowing an educational as well as entertaining experience.
Learn how to play the exciting Korean see-saw game with a friend, how to sing "Happy Birthday" in Korean, and how kids say "hello "
Other activities include making a White Tiger puppet, playing jegi (Korean hacky-sack) and singing "Arirang," Korea's most beloved song.
Enjoy the traditional Korean stories "Taming a Tiger" and "Two Foolish Green Frogs."
Easy Korean recipes are included for delicious treats like kimbap (roll-your-own wraps) and songpyeon (sweet filled rice cakes).
All About Korea
is a book for families to treasure together. It offers not only the most important facts about Korean, but also reflects the spirit that makes Korea one-of-a-kind.
About the Author
Ann Martin Bowler worked as an educator for many years and now writes full time. She has visited Korea with her family many times and travels widely in Asia. Her two youngest children were adopted from Korea. She is also the author of Gecko's Complaint and Adventures of the Treasure Fleet. www.AnnMartinBowler.net Soosoonam Barg was born in Seoul, Korea, and teaches art and tapestry weaving at schools and her studio in New Jersey, as well as at schools in Korea. She was presented with The Scholastic Arts & Writing award in recognition for being an outstanding educator and has been profiled by the New York Times for her artwork.
Praise For All about Korea: Stories, Songs, Crafts and More…
"All About Korea is a rich trove of activities and information about Korea, compiled by author Ann Martin Bowler. In fifteen chapters, appealingly illustrated by Soosoonam Barg, Bowler presents history, games, folktales, some basic Korean language, songs, recipes, and information about holidays, arts and crafts, architecture, and values. In addition to use in the classroom, the many Korean-American parents and adoptive parents of Korean-born children will be gratified and assisted by Bowler and BargÆs book in instilling in their bicultural children a sense of pride and respect for the Korean people and their country."—PaperTigers.org

"Explaining a country's culture is a difficult and rewarding task, and without a doubt, it requires contemplation and hard work. After reading All About Korea, I was certain that it was written by a Korean or Korean-American author. I was pleasantly surprised to see that a non-Korean had written such a thorough, informative yet succinct introduction about Korean culture. The book is accurate and covers a lot of ground, and the author manages to get past the superficial level of cultural understanding."—Jeong-Gwan Lee, Consul General of the Republic of Korea in San Francisco

"All About Korea is a delightful children's book written by Ann Martin Bowler, an adoptive parent of two children from Korea. A wonderful resource for families who have adopted from Korea, the book—chalk full of interesting facts about Seoul—also serves as a useful and fun guide for anyone interested in Korean history and culture. Your child will love the fun stories, crafts and activities, as well as the vibrant and colorful pictures—beautifully illustrated by Soosoonam Barg, an artist and teacher from Seoul. Bowler also provides delicious recipes used in the rich Korean culture! We highly recommend All About Korea to our Korea families and their children. We encourage you to read the book with your child and, together, learn about Korea and your child's heritage!"—Angie Wharfield Ford, Director of Post Adoption Services, Holt International
or
Not Currently Available for Direct Purchase