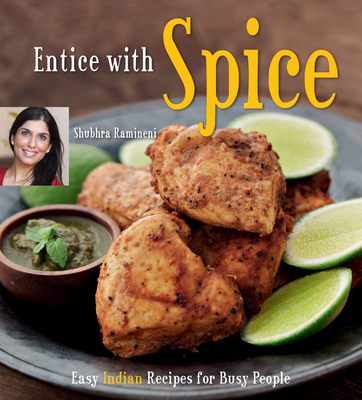 Entice with Spice (Hardcover)
Easy Indian Recipes for Busy People [indian Cookbook, 95 Recipes]
Tuttle Publishing, 9780804840293, 160pp.
Publication Date: September 10, 2010
Other Editions of This Title:
Paperback (4/14/2020)
* Individual store prices may vary.
Description
Cook healthy and delicious dishes with this friendly and easy-to-follow Indian cookbook.
Entice with Spice
shows Indian food enthusiasts how to prepare delicious meals at home without spending hours in the kitchen. A first-generation Indian-American, author Shubhra Ramineni has developed a no-fuss cooking style that re-creates authentic Indian flavors using easy techniques and fresh and readily available ingredients. The Indian food lover will find nearly 100 recipes--from samosa to naan bread and mouthwatering curries--for easy-to-make versions of favorite dishes from both the North and South of India. Throughout this practical book Shubhra shares tricks and shortcuts she has learned from her mother, who is from Northern India; her mother-in-law, who is from Southern India; family members in India, and professional chefs in the U.S. With a friendly, reassuring voice, Shubhra shows busy home cooks how simple it is to prepare a homemade Indian meal that tastes wonderful quickly.
Favorite Indian recipes include:
Chicken Kebabs
Pepper Shrimp on a Stick
Coconut Chutney
Whole Wheat Flatbread
Chicken Vindaloo Curry
Easy Lamb Curry
Fish with Tamarind Curry
Sweet Rice Pudding
And much more...
About the Author
Shubhra Ramineni is a first generation Indian-American raised in Houston, TX. Shubhra grew up enjoying healthy, traditional food and she learned to cook from her mother, an excellent home cook and a professional dietitian. Determined to eat well despite her busy schedule s a chemical engineer with an MBA, Shubhra set out to adapt traditional Indian recipes for the lifestyles of today's professionals, creating dozens of delicious, easy-to-prepare Indian recipes. She teaches Indian cooking classes at Williams-Sonoma, Sur La Table, and Whole Foods Market in Houston and Los Angeles. She is also a contributor to www.Greenista.com, a blog for fashionistas with a green conscience, in which she shares her recipes and ideas for a green eating lifestyle. Shubhra lives in Houston, TX with her husband, Naveen, and their baby, Jaya. More information about Shubhra is available at www.enticewithspice.com. Masano Kawana won a James Beard Award for best cookbook photography for his book Shunju: New Japanese Cuisine. Masano is one of the most exciting food, interior and landscape photographers in Asia. Born in Japan and based in Singapore, Kawana has traveled, lived and surfed throughout the region, photographing a wide variety of subjects and lifestyle magazines.
Praise For Entice with Spice: Easy Indian Recipes for Busy People [indian Cookbook, 95 Recipes]…
"[A]n excellent beginning Indian cookbook; highly recommended."—Library Journal

"Geared to suit the on-the-go lifestyles of today's professionals, Ramineni has produced a tantalizing collection of easy-to-prepare Indian recipes. Beautiful photographs of dozens of traditional Indian dishes are sure to whet anyone's palate."—ForeWord Magazine

"Shubhra is a great cooking instructor. She is teaching food she knows intimately, and yet she is always learning something new and bringing that to the kitchen. Her passion for Indian food and her ability to pass that on to her students is her greatest gift. She removes the mystery from Indian cooking and makes it easy, quick and tasty."
—Jason Cammack, Culinary Coordinator, Sur La Table

"Shubhra's approach to Indian cuisine is easy, straightforward, and utterly delicious. I have had the opportunity to work with her on a few Community events and her cooking style, the simplicity of the recipes, and the passion behind her work has made me a fan for life!"
—Nick Fisher, Whole Foods Market

"Engineer and Indian cooking instructor Ramineni entices readers with a beautiful cookbook full of traditional Indian recipes adapted for busy American kitchens. Beginning with thorough explanations, from terminology to spice mixtures, she provides time-saving suggestions and tips for preparing ingredients (including some unusual ideas, like using gram flour for a facial mask). Most recipes are accompanied by Masano Kawana's beautiful color photos, and cook-ahead instructions for storing and reheating are provided. From restaurant favorites like Chicken Tikka Masala and Mulligatawney Soup to new creations like Dad's Baked Salmon, the book is filled with mouth-watering recipes. In addition to vegetarian and meat-based entrees, Ramineni also includes beverages, desserts, breads, soups, and salads. Readers will appreciate substitutions for unusual ingredients, like lime juice instead of dried mango powder when making mint chutney. Complicated recipes are often accompanied by step-by step photos, making even stuffed dosas and paneer possible for the home cook. Readers seeking healthier recipes will appreciate that Ramineni has replaced ghee with vegetable oil and wields cream with restraint, though she doesn't sacrifice authenticity; samosas, for instance, are still fried. This may be the Indian cookbook that American foodies have been waiting for."—Publishers Weekly
or
Not Currently Available for Direct Purchase