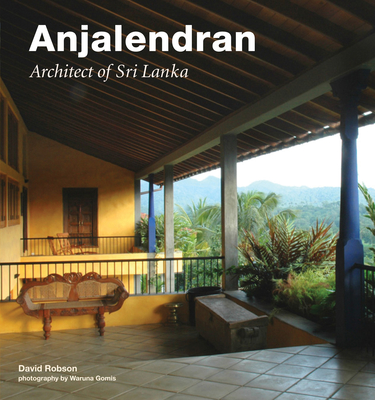 Anjalendran (Hardcover)
Architect of Sri Lanka
Tuttle Publishing, 9780804840385, 240pp.
Publication Date: November 10, 2009
* Individual store prices may vary.
Description
This beautifully illustrated book showcases the works of one of Sri Landa's most influential architects--Anjaledran, an ethnic Tamil and visionary artist. During the past 25 years of civil war in Sri Lanka, Anjalendran has stayed on, creating architecture that has attracted interest across the entire Indian subcontinent. In Anjalendran, David Robson explores this unique man and his uncommon vision. Anjalendran's buildings have a simple directness, and although totally modern in spirit, they acknowledge the rich design traditions of Sri Lanka. Whether working with ample budgets or at rock bottom cost (like his SOS Children's Village orphanages), his work focuses not only on creative buildings, but--a la Frank Lloyd Wright--also their landscaping, furniture and decoration. Just as interesting as the architecture is the process by which Anjalendran works—: from home, never employing more than four student assistants, with no office, no secretary, no car and no cell phone. He operates without a bank account and has never signed a contract with either a client or a builder. With stunning color photographs, plan details and behind-the-scenes insights, Anjalendran sheds light on the works of this exceptional man.
About the Author
David Obson is the author of a comprehensive monograph on the world-renowned Sri Lankan architect Geoffrey Bawa called Geoffrey Bawa: The Complete Works, and Bawa: The Sri Lanka Gardens. He has known Anjalendran since 1971. Photographer Waruna Gomis trained as an architect and was one of the famed architect Geoffrey Bawa's last assistants. He currently runs Lightangle, a photo agency.
Praise For Anjalendran: Architect of Sri Lanka…
"Robson, an authority on Sri Lankan modern design (Bawa: The Complete Works), presents an overview of his work: mainly houses, villas, offices, and a large children's school. He combines poetic local and historical traditions with industrialized modern design: a combination of international bungalow style with the more imaginary style of the great French modern architect Le Corbusier. Verdict-Robson offers a well-written study and a beautifully photographed survey aimed at designers, architects, and students of both."—Library Journal