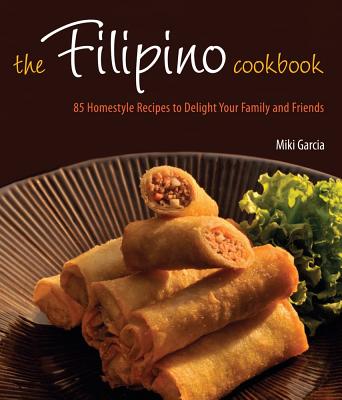 The Filipino Cookbook (Hardcover)
85 Homestyle Recipes to Delight Your Family and Friends
Tuttle Publishing, 9780804840880, 112pp.
Publication Date: May 20, 2010
Other Editions of This Title:
Paperback (2/21/2017)
* Individual store prices may vary.
Description
Learn authentic and delicious recipes with this beautifully illustrated Filipino cookbook.
This delightful collection of 85 tried and tested recipes from the Philippines showcases the full range of authentic dishes from the country. Each region has its own distinct food culture and the book relates the secrets o=and soul of dishes that create the cultural mosaic that is the Philippines.
The Filipino Cookbook
features easy, step-by-step instructions that Filipinos and non-Filipinos alike will enjoy. Learn to make the famous vegetable dishes of the Tagalog peninsula to the seafood and noodles of the Visayan Islands and the spicy and colorful curries of Mindanao. Learn to make a perfect Pinakbet (Sauteed Vegetables with Shrimp Paste) or a delicious Halo-Halo (Mixed Fruits Dessert). Regale your friends with a wonderfully easy Paella (Rice and Seafood Medley) and Morcon (Stuffed Beef Roll) or an amazing bowl of Pininyahang Manok (Chicken with Pineapple). Utilizing readily available ingredients,
The Filipino Cookbook
allows the home cook to create authentic Filipino food at home, whether you are one of the 4 million Filipino-Americans living in the United States or simply interested in trying something new.
Authentic Filipino recipes include:
Pan de Sal Bread Rolls
Wonton Soup
Crispy Lechon Pork
Chicken Adobo
Sweet and Sour Fish
Mung Bean and Spinach Stew
Noodles with Shrimp and Tofu
Sweet Banana and Jackfruit Rolls
Iced Tapioca Pearl and Jelly Drink
About the Author
Miki Garcia is a journalist by training and a food aficionado by vocation. She obtained a Master's Degree in Journalism in England and is the author of two books: All About Ireland and How To Get Involved with International Organizations. She is an expert on Kapampangan culture and history and, though she has lived and traveled in nearly 100 countries, her greatest love is for the melting-pot food of the Philippines, where she lived for a year. She resides in San Francisco, California. Luca Invernizzi Tettoni is a world-renowned photographer who has lived and worked in Asia since 1973. He specializes in books on Asian culture. Among his many publications are Tropical Asian Style, Balinese Gardens, Thai Style, The Tropical Spa and Contemporary Thai. Theo Domini O. Zaragoza has a natural gift for cooking and an aptitude for creativity. He studied Food Styling at the Culinary Institute of America in New York. The marriage of his two passions, culinary and design, are his consummate bliss. In 2004, he set up a food styling and food photography firm in the Philippines, the Resultado Gourmet Designs. He has an impressive list of clientele such as Del Monte, Unilever, Coca-cola, Kraft, DominoAEs Pizza, and 7-11 Corporation. He also acquired his training as a chef from Shangri-la's Culinary Academy, The Maya Kitchen, and Triple V Group of Restaurants.
Praise For The Filipino Cookbook: 85 Homestyle Recipes to Delight Your Family and Friends…
"A delightful collection of 80 tried and tested recipes, The Filipino Cookbook showcases a full range of authentic Filipino dishes."—The Asian Journal
or
Not Currently Available for Direct Purchase