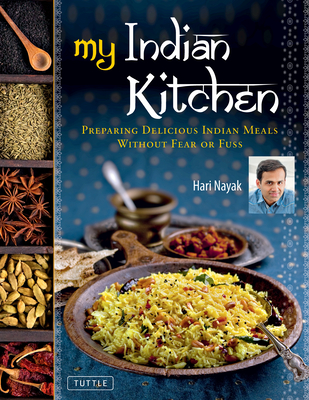 My Indian Kitchen (Hardcover)
Preparing Delicious Indian Meals Without Fear or Fuss
Tuttle Publishing, 9780804840897, 159pp.
Publication Date: August 10, 2011
Other Editions of This Title:
Hardcover (9/10/2019)
* Individual store prices may vary.
Description
Growing up in a rural town in southwest India near the sea, author and chef Hari Nayak was thoroughly steeped in the aromas and flavors of traditional Indian cooking--the allure of freshly roasted and ground spices, simmering dals with fragrant curry leaves, creamy grated coconut and homemade yoghurt, the sour bite of the tamarind and the burn of hot chili peppers, the sweetness of sugar palm sap, fresh fish and seafood of every description--and hot, fluffy plates of steaming rice, the staple of most meals. In this book Hari shares the secrets of his family's own style of southern Indian cooking as well as favorite dishes from other parts of the huge Indian subcontinent--secrets that he learned from his mother and aunts, neighbors, local street vendors and countless friends. Simple tips like quickly dry-roasting spices in a skillet before grinding them to a powder or a paste to release the oils and awaken the flavors, thereby adding a wonderful, almost alchemical aroma to any dish. This tip, and many more, will help you to unlock the hidden magic of Indian cooking. With the recipes in this book, you will finally be able to make consistently delicious Indian food for your friends and family--from a perfect Mint Chutney with Samosa to a melt-in-the-mouth Chicken Tikka Masala, Pork Vindaloo, Tandoori Chicken, Cucumber and Yogurt Raita and Sweet Mango Yogurt Lassi. Traditional Indian meals normally involve elaborate preparation, but Hari, having lived in the West for many years now, understands that most of us do not have the time to prepare elaborate meals, particularly during the work week. To accommodate our busy lifestyle, the recipes in this book have been simplified, without sacrificing any of their authenticity. An electric spice grinder (or food processor) replaces the traditional grinding stone and a blender replaces pureeing by hand. What if you don t have time to make homemade Indian bread? A crusty French baguette can be served instead. With Hari's guidance and timesaving tips, you'll learn how spices and herbs complement one another and interact with other ingredients to create the unique aroma and flavor in each dish. Armed with this knowledge, you will soon be able to create Indian meals appealing to suit your personal taste and that of your family and friends, creating your very own Indian kitchen.
About the Author
Hari Nayak is part of the creative new generation of chefs from Asia and is known for his simple approach to food and staying true to the core Indian values of the dishes he creates. Hari graduated from the Culinary Institute of America and has worked in the food industry for the past 15 years--including stints at renowned New York restaurants like Aquavit and Daniel. He now runs his own consultancy business called Gourmet Gurus. His first cookbook, Modern Indian Cooking was named best of the season for 2007 by the LA Times. Hari lives in New Jersey. HariNayak.com. Jack Turkel has been a professional photographer for more than thirty-five years. His creative eye has expertly captured an impressive list of subjects and settings. He is now focusing his experience on the art of food photography and styling. JackJayDigital.com
Praise For My Indian Kitchen: Preparing Delicious Indian Meals Without Fear or Fuss…
"A tasty straight-forward guide to regional Indian cooking."—Padma Lakshmi, author, actress, model and host of the Emmy award winning show Top Chef USA

"I adore spices. In Asia, I love visiting spice markets and it's no surprise that I am a great fan of Indian cooking. Its intricate blending of spices is absolutely fascinating and delightful. Thanks to Chef Nayak, my understanding of Indian flavors and cooking techniques have broadened, and with that, my appreciation for the cuisine. My Indian Kitchen is now in my kitchen, as it should be in yours."—Martin Yan, TV show host and cookbook author of Yan Can Cook

"This book feels close to home and heart. It oozes the awesome flavors of India in a real sense—true to its cuisine and honest in its approach."—Atul Kochar, Indian chef, author and TV presenter

"My Indian Kitchen is the best way for an ambitious home cook to express his true love for Indian cooking. This book is filled with dishes and delicacies that are a feast for both the eyes and the palate. Make room for My Indian Kitchen on your book shelf!"—Sanjeev Kapoor, chef, author and TV host

"To get in touch with distinct Indian flavors, grab a copy of Chef Hari Nayak's newest cookbook, My Indian Kitchen. Prepare yourself for an awesome and pleasurable experience in your own kitchen."—FriendsEat.com

"A fantastic cookbook for both novices and advanced cooks that I would wholeheartedly recommend. Is this book a keeper? Hell, yeah. It's totally worth the space on my shelf. Get it. Use it. Die Happy."—Jugalbandi.info

"My Indian Kitchen offers authentic and accessible dishes that can be prepared without tears (get someone else to peel the onions). A gift-quality book with which you will not want to part."—MostlyAsianFood.com

"Those who love collecting cookbooks, this book definitely deserves a place in your book shelf. It also makes for a great gift to cooking enthusiasts. Go for it."—VegetablePlatter.com

"Having never cooked Indian food from scratch before, I was a little intimidated. With a 2 year old and a newborn, I didn't need complicated—I needed easy. Hari suggested I try his Chicken Curry in a Hurry. He said it was an easy, fool proof recipe. I was amazed at how fast this meal came together."—WeeklyBite.com

"Growing up in a rural town in southwest India near the sea, the author, restaurateur and chef shares the secrets of his family's own style of southern Indian cooking that includes meats and seafood one doesn't usually associate with Indian food. The chef also includes the usual favorites such as his famous melt-in-your-mouth CafT Spice Chicken Tikka Masala found at Whole Foods hot bars nationwide."—Hozpitality.com

"My Indian Kitchen is very visual, with step-by-step procedures and more than 200 photos. Traditional techniques are featured, as well as methods for grilling meats, barbecuing, and dryroasting spices in a skillet before grinding them."—The Sentinel

"Rich with flavor, Indian food is a tongue-tantalizing cuisine that has many inherently vegan recipes as well as recipes that can be adapted to a vegan diet."—SheKnows.com

"My newfound love of Indian food led me to My Indian Kitchen by Hari Nayak, which is one of the nicest cookbooks I have ever laid eyes on. The cover is gorgeous and layered with deep navy hues and a sudden contrast of yellow rice as the centerpiece. The left side displays several beautifully photographed spices, which I can only assume are commonly used in Indian cuisine. It's a solid and large hardcover book. So, in a nutshell, I'm impressed."—Lisa Ekus Group

"On dog days, you have to cook something quickly on the grill, in a skillet, or whatever you do when you want a quick blast of heat and then nothing. And then make raita, the cooling Indian dish of yogurt and finely chopped vegetables. This one, from the smart looking and enticing new My Indian Kitchen, by former chef and food consultant Hari Nayak, is a particularly good version."—The Boston Globe
or
Not Currently Available for Direct Purchase