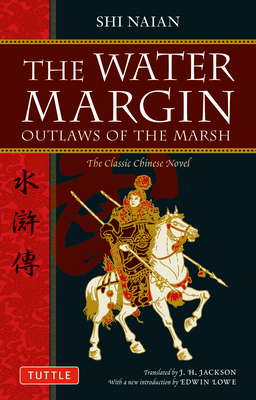 The Water Margin (Paperback)
Outlaws of the Marsh: The Classic Chinese Novel (Tuttle Classics)
Tuttle Publishing, 9780804840958, 798pp.
Publication Date: June 10, 2010
* Individual store prices may vary.
Description
Based upon the historical bandit Song Jiang and his companions, this Chinese equivalent of the English classic Robin Hood and His Merry Men is an epic tale of rebellion against tyranny and has been thrilling and inspiring readers for hundreds of years. This edition of the classic J. H. Jackson translation features a new preface and introduction by Edwin Lowe, which gives the history of the book and puts the story into perspective for modern readers. First translated into English by Pearl S. Buck in 1933 as All Men Are Brothers, the original edition of the J.H. Jackson translation appeared under the title The Water Margin in 1937. In this updated edition, Edwin Lowe addresses many of the shortcomings found in the original J.H. Jackson translation, and replaces the original grit and flavor of Shuihui Zhuan found in Chinese versions, including the sexual seduction, explicit descriptions of brutality and barbarity, and the profane voices of the thieving, scheming, drinking, fighting, pimping lower classes of Song Dynasty China. Similarly, the Chinese deities, Bodhisattvas, gods and demons have reclaimed their true names, as has the lecherous, over-sexed and ill-fated Ximen Qing. All of which was sanitized out when first published in 1937. While Chinese in origin, the themes of The Water Margin are universal enough that it has served as a source of inspiration for numerous movies, television shows and video games up to the present day.
About the Author
Shi Naian is one of the respected elders of Chinese literature. In addition to authoring Water Margin, he was also the teacher of Lo Kuan-chung, author of Romance of the Three Kingdoms. J. H. Jackson first came into contact with Chinese culture through his involvement with Presbyterian missionary efforts. His translation of The Water Margin was the first to follow the text of the Chinese original closely. It was his only translated work. Edwin Lowe is Associate Lecturer of Chinese Studies in the Department of Asian Studies at Macquarie University, Sydney. He researches Chinese strategic and defense studies, comparative cultural and philosophical approaches to warfare and the evolving nature of conflict and war.