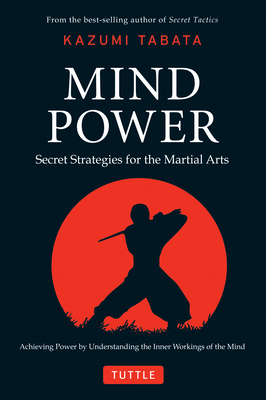 Mind Power (Hardcover)
Secret Strategies for the Martial Arts (Achieving Power by Understanding the Inner Workings of the Mind)
Tuttle Publishing, 9780804841092, 158pp.
Publication Date: September 10, 2010
* Individual store prices may vary.
Description
Learn to harness your spiritual and mental energy to acquire the tools for survival and success in martial arts.
In
Mind Power: Secret Strategies for the Martial Arts
, Kazumi Tabata, Grandmaster in the Shotokan and Shorinji styles of Karate, offers his personal teachings as to how martial arts students can reach the point where time seems to slow down, quick movements are seen in slow motion, and the full potential of one's inner power can be harnessed. Chapters include:
Strategy--basic physical and mental approaches to combat
Basic Laws of the Mind and Body--How to harness and maximize the power of one's mind and body
Strategy of a Virtuous Man--How, with honorable approaches, to approach and win confrontations
How to Interpret Your Mind--Insights into our mind's workings
Words and Deeds of a Virtuous Man--Approaches and actions of a man seeking higher ground
Strategy of the Mind--Best application of our cognitive instincts
The Law of Anger and the Law of Snapping--How anger manifests and how to work with it
How to Interpret Wavelengths--Insight into understanding others
Strategy of Mu--How to build upon a very Eastern approach; the concept of emptiness
The Pinnacle of Spiritual Attainment--Translations and interpretations of ancient writings
The Heart of Sutra--Translations and interpretations of ancient writings
About the Author
Kazumi Tabata is a Grand Master in the Shotokan and Shorinji styles of Karate. He came to the United States in the 1960s, and shortly after his arrival, established and still serves as the Chief Instructor of the North American Karate Federation. Master Tabata is the author of several books including Secret Tactics and Warrior Wisdom.
or
Not Currently Available for Direct Purchase