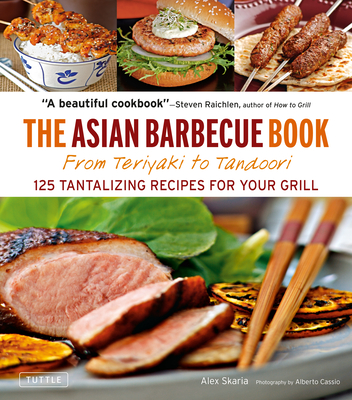 The Asian Barbecue Book
From Teriyaki to Tandoori
Paperback

* Individual store prices may vary.
Other Editions of This Title:
Hardcover (5/1/2009)
Description
"A beautiful cookbook"--Steven Raichlen, author of The Barbecue Bible
The Asian Barbecue Book
is an inspired and practical guide to creating countless delicious Asian-inspired meals hot off the flame. Traveling and eating barbecue throughout Asia, author Alex Skaria has mastered the technique and art of barbecue, combining Western barbecue techniques with the aromatic and enticing flavors of Asia. All of the recipes in the book can be made using conventional backyard grills, yet for those truly adventurous barbecue enthusiasts sidebars and tips on making some exotic barbecued meats are included (such as whole pit-roasted pig). This Asian barbecue cookbook starts off with barbecuing fundamentals--choice of grills is discussed, including unique Asian grills, grilling tools, grilling techniques, timing and temperature control, and much more. From tips on tenderizing meat and achieving moist, juicy barbecue, the author guides cooks through the process, ensuring they end up with a great meal every time. For cooks who want to grab flavors quickly, or don't want to complete a main recipe from start to finish, numerous quick and easy recipes for barbecue sauces, rubs, pastes and marinades provide the basis for infusing new and exciting flavors into meat, poultry and seafood. Complete with sides and salads, such as Thai Papaya Salad and Asian Slaw, and desserts, such as Grilled Mango with Ginger Syrup, this treasury of Asian barbecue recipes will be a resource for years to come.
Asian barbecue recipes include:
Tandoori Spice Rub
Wasabi Mayonnaise
Korean-Style Barbecued Sirloin Steaks
Thai T-bone Steaks
Stuffed Saffron Chicken
Grilled Duck Breast with Orange Soy Glaze
Bombay-Style Swordfish Steaks
Seared Teriyaki Tuna
Vindaloo Pork Steaks
Spicy Sweet Pork Satays with Fiery Lime Chili Dip
Lamb Shish Kebabs
Zucchini with Pesto
Tabbouleh Salad
Grilled Bananas with Chocolate and Coconut
Tuttle Publishing, 9780804841689, 176pp.
Publication Date: March 10, 2011
About the Author
Alex Skaria has traveled the entire Asian region ranging from Lebanon and Turkey to Korea and Japan, sharpening his cooking and barbecuing skills. Alberto Cassio opened Photobank in 1978, the first stock photography library in Thailand.