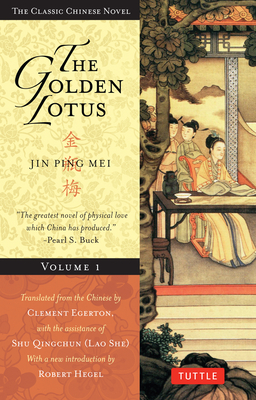 The Golden Lotus Volume 1 (Paperback)
Jin Ping Mei (Tuttle Classics #1)
Tuttle Publishing, 9780804841702, 640pp.
Publication Date: October 10, 2011
Other Editions of This Title:
Paperback (5/1/2018)
Paperback (11/22/2016)
* Individual store prices may vary.
Description
"The greatest novel of physical love which China has produced." --Pearl S. Buck A saga of ruthless ambition, murder, and lust, The Golden Lotus (Jin Ping Mei) has been called the fifth Great Classical Novel in Chinese literature and one of the Four Masterworks of the Ming novel. Admired in its own time for its literary qualities and biting indictment of the immorality and cruelty of its age, it has also been denigrated as a "dirty" book for its sexual frankness. It centers on Ximen Qing, a wealthy, young, dissolute, and politically connected merchant, and his marriage to a fifth wife, Pan Jinlian, literally "Golden Lotus." In her desire to influence her husband and, through him, control the other wives, concubines, and entire household, she uses sex as her main weapon. The Golden Lotus lays bare the rivalries within this wealthy family while chronicling its rise and fall. It fields a host of vivid characters, each seeking advantage in a corrupt world. The author of The Golden Lotus is Lanling Xiaoxiaosheng, whose name, a pseudonym, means "Scoffing Scholar of Lanling." His great work, written in the late Ming but set in the Song Dynasty, is a virtuoso collection of voices and vices, mixing in poetry and song and sampling different social registers, from popular ballads to the language of bureaucrats, in order to recreate and comment mordantly on the society of the time. This edition features a new introduction by Robert Hegel of Washington University, who situates the novel for contemporary readers and explains its greatness as the first single-authored novel in the Chinese tradition. This translation contains the complete, unexpurgated text as translated by Clement Egerton with the assistance of Shu Qingchun, later known as Lao She, one of the most prominent Chinese writers of the twentieth century. The translation has been pinyinized and corrected.
About the Author
Lanling Xiaoxiaosheng wrote The Golden Lotus during the early years of the Wanji era (1573--1620) of the Ming Empire. Nothing certain is known of Lanling's life. Clement Egerton was at various times a senior officer in the British army, an Anglican bishop, and a writer, editor, linguist, and prolific photographer, but he is best known for his enduring translation of The Golden Lotus. Shu Qingchun boarded with Clement Egerton and his wife when he was a lecturer in Chinese at the School of Oriental Studies in London, but he became famous as the Beijing novelist and dramatist Lao She, whose best-known work may be Rickshaw Boy. He was killed, or committed suicide, during the Cultural Revolution. Robert Hegel is the Liselotte Dieckmann Professor of Comparative Literature and a professor of Asian and Near Eastern Languages and Literatures at Washington University in St. Louis, Missouri.
Praise For The Golden Lotus Volume 1: Jin Ping Mei (Tuttle Classics #1)…
"The greatest novel of physical love which China has produced."—Pearl S. Buck

"Egerton and Qingchun (the novelist Lao She), however, present this version entirely in English. Supplemental materials such as an alphabetical list of characters and Washington University Professor Robert Hegel's new introduction detailing the novel's historical context will prove invaluable to readers."—Publishers Weekly
or
Not Currently Available for Direct Purchase