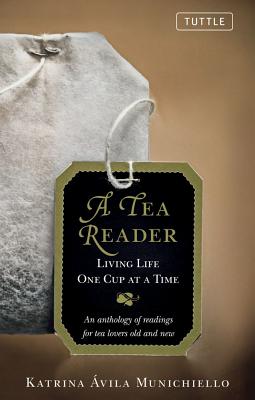 A Tea Reader
Living Life One Cup at a Time: An Anthology of Readings for Tea Lovers Old and New
Hardcover

* Individual store prices may vary.
Other Editions of This Title:
Hardcover (3/21/2017)
Description
A Tea Reader contains a selection of stories that cover the spectrum of life. This anthology shares the ways that tea has changed lives through personal, intimate stories. Read of deep family moments, conquered heartbreak, and peace found in the face of loss. A Tea Reader includes stories from all types of tea people: people brought up it the tea tradition, those newly discovering it, classic writings from long-ago tea lovers and those making tea a career. Together these tales create a new image of a tea drinker. They show that tea is not simply something you drink, but it also provides quiet moments for making important decisions, a catalyst for conversation, and the energy we sometimes need to operate in our lives. The stories found in A Tea Reader cover the spectrum of life, such as the development of new friendships, beginning new careers, taking dream journeys, and essentially sharing the deep moments of life with friends and families. Find reflections of yourself and those you know in stories such as a tea shop owner whose heart is broken by Hurricane Katrina, and then finds the strength to start again, or a woman sharing a last moment with her father over a cup of tea. Whether you are a tea lover or not, here you will discover stories that speak to you and inspire you. Sit down, grab a cup, and read on.
Praise For A Tea Reader: Living Life One Cup at a Time: An Anthology of Readings for Tea Lovers Old and New…
"Not only is there a world of tastes and flavors to explore, but preparing and drinking tea provides "a quiet time to think and contemplate," says Munichiello, author of A Tea Reader: Living Life One Cup at a Time. In it, she shows the impact of tea on the lives of a cross section of tea lovers."—USA TODAY

"Like a fragrant pot of tea, this well-curated collection of personal narratives is full-bodied, bracing and delicious. Cozy up in a comfortable chair (with your favorite cuppa, of course) and lose yourself in the keen enthusiasm of this convivial group of tea lovers as they weave personal memories and heartfelt experiences about the importance of tea in their lives. This is a richly rewarding compendium that speaks to the passion and allegiance of tea drinkers."—Mary Lou Heiss, co-author of The Story of Tea and The Tea Enthusiasts Handbook

"A glimpse into the lives and souls of people who share a common passion; their unrelenting love for tea. A must-read for tea enthusiasts and those who soon will be."—Joseph P. Simrany, President, Tea Association of the USA, Inc.

"Katrina brilliantly captures the romance and journey of tea."—Tracy Stern, founder of SALONTEA and author of Tea Party and Tea for You

"My recommendation is that reading an anecdote or two with a cup of tea will bring pleasure and appreciation to anyone who enjoys drinking tea."—Shozo Sato, professor emeritus, University of Illinois, Urbana-Champaign

"While the book's topic alone makes it the perfect gift for the tea enthusiast in your life, the selections all are also skillfully written, whether somber, joyful or educational in tone. Most share a contemplative, peaceful sensibility (often achieved over a cup of Earl Grey). So although at least a passing appreciation for tea will further readers' appreciation, any fan of good writing will enjoy sampling the contents…even, dare it be said, those who prefer coffee."—Shelf Awareness for Readers

"In this charming anthology, freelance journalist and blogger Munichiello provides a refreshing reminder of the days when tea parties evoked thoughts of friendship rather than political differences."—Publishers Weekly

"As for the contents, the author recommends that you get a good cup of tea and sit back to read. I agree totally. This is a book to be taken in with some attention, not rushed through…"—English Tea Store
Tuttle Publishing, 9780804841764, 256pp.
Publication Date: October 10, 2011
About the Author
Katrina Avila Munichiello is a freelance writer, blogger, and tea lover. Specializing in writing about tea, parenting and food allergies, she has been published in Yankee Magazine, The Boston Globe Magazine, Living Without and others. A native of Maine, Katrina and her family live in Massachusetts. TeaPages.Blogspot.com
or
Not Currently Available for Direct Purchase