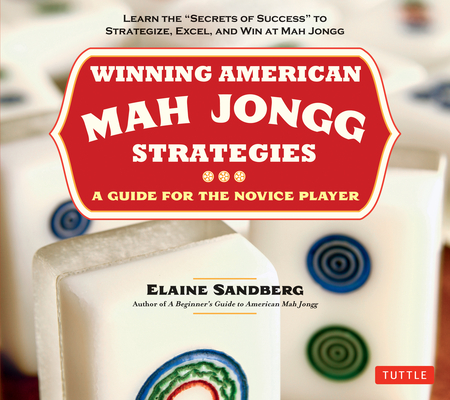 Winning American Mah Jongg Strategies (Paperback)
A Guide for the Novice Player -Learn the "secrets of Success" to Strategize, Excel and Win at Mah Jongg
Tuttle Publishing, 9780804842341, 96pp.
Publication Date: March 10, 2012
* Individual store prices may vary.
Description
Master the fascinating and rewarding game of American Mahjong with this guide for beginners.
"Strategies, strategies, strategies If I only knew more strategies I could win more games " is the frequent lament of beginning Mahjong players. Following up on the success of her acclaimed book,
A Beginner's Guide to American Mah Jongg
, bestselling author Elaine Sandberg's new book offers novice players the advice they need to excel at the game of Mahjong.
Winning American Mah Jongg Strategies: A Guide for the Novice Player
is the strategy guidebook that provides American Mahjongg beginners with the practical information they need to build hands, improve game-play skills, strategize, and win This easy-to-follow, comprehensive book teaches players how to overcome common difficulties and provides the knowledge to sharpen strategic skills and increase win ratios. By showing beginners how to see and utilize different strategic elements and scenarios, players learn how to elevate their skills.
Challenges covered in this Mahjongg book include:
Finding the best hand
The use of defensive tools
To Expose or not to Expose and why
Determining an opponent's hand
And much more...
Winning American Mah Jongg Strategies
is a gem of a book that is the perfect gift for Mahjong players of all ages.
About the Author
Elaine Sandberg has been a mahjongg instructor for many years. She has taught American mah jongg for Holland America Cruise Lines, and currently, teaches classes in the Los Angeles area. She is the author of A Beginner's Guide to American Mah Jongg.