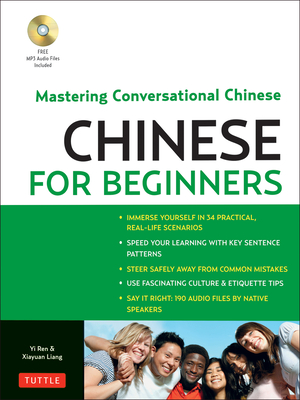 Chinese for Beginners (Paperback)
Mastering Conversational Chinese (Audio CD Included) [With MP3]
Tuttle Publishing, 9780804842358, 192pp.
Publication Date: September 10, 2012
* Individual store prices may vary.
Description
Chinese for Beginners is an excellent, user-friendly book for learning the Chinese language.
Yi Ren has taught thousands of Americans to speak Chinese fluently. Now, she and co-author Xiayuan Liang share their secrets for fast mastery of Mandarin Chinese with you. China has 1.3 billion people, and due to initiatives to phase out regional dialects in favor of Mandarin Chinese, nearly all of them can communicate in Mandarin. Don't let yourself be intimidated by this rewarding language. Although it is true that mastery of the Chinese language takes time, Mandarin Chinese has simpler grammar than English, and there are no conjugations--meaning anyone can learn a few critical phrases in no time. Chock full of extra hints and tips from the authors' many years of experience teaching Mandarin Chinese in adult evening classes,
Chinese for Beginners
focuses on realistic situations you'll encounter when you meet people in China. New words are explained concerning how you'll use them to communicate with new friends. The audio-CD is another excellent way to learn Chinese and lets you listen and repeat and remember the sentences with ease, and will help you soon declare with pride, "I can say that in Chinese "
Chinese for Beginners includes:
Lighthearted approaches that bring Chinese to life in a down-to-earth fashion.
Real-life dialogues and situations to help you converse with confidence.
An "Extend Your Vocabulary" feature in each chapter helps you to remember and understand more words that you'd think possible.
Native-speaker audio recordings teach you to pronounce Chinese tones accurately.
Answer Keys help you keep track of your learning process.
Interesting notes, idioms, sayings, photos, poems, and insider tips about China's culture, unique places, and everyday life add to the adventure.
This user-friendly guide to learning the basics will work for anyone who wants to speak and understand Chinese for business, for pleasure, or for travel--and who wants to enjoy the process of learning a new language while they're at it.
About the Author
Yi Ren taught and researched in Beijing after graduating from Tsinghua University. On moving to the U.S., she began to teach Chinese to children at weekend Chinese Schools, and also to tutor others in Chinese. After years of being worn down by her adult students' begging her to do it, Yi decided to capture her special teaching methods on paper, in a book to help other adult Chinese learners. She lives with her family in Denver, Colorado. Xiayuan Liang practiced medicine in China before coming to the United States in 1986. She did biomedical research at Washington University in St. Louis and Georgetown University, then resumed her career as a physician. She currently is an associate professor at University of Colorado School of Medicine. In her spare time, Xiayuan likes to read and to discuss interesting topics with friends--in Chinese, of course!
Praise For Chinese for Beginners: Mastering Conversational Chinese (Audio CD Included) [With MP3]…
"Yi Ren goes beyond simply teaching words and phrases…immerses you in the great culture of China so that you feel as if you are actually experiencing the language."—Jason Hayes

"Exceptional. As an adoptive parent to a Chinese child, learning about our child's country was very important to me…I am a native Spanish speaker and English is my second language. Yi made the Mandarin language learning easier."—Rosy Aburto McDonough

"Yi's teaching style is very motivating…As someone in his late sixties who has become captivated by Chinese language, her teaching has been highly instrumental."—Paul Ramsey

"Initially my wife and I were quite concerned about the difficulty of learning Chinese. However, Yi Ren's passionate and engaging teaching style…made learning the Chinese language—and culture—a wonderful experience for everyone!"—Brian & Robin

"It is a rare privilege to experience China through the eyes of an insider—this teacher is like no other…her charismatic style and expert delivery will ignite your imagination."—Jeanmarie Lerner

"Yi is a fantastic teacher. She understands how adult students learn a new language and makes every part of the experience with her fun! Her enthusiasm is infectious and her methods work."—Sharon Scott

"I loved my Chinese classes with Yi Ren. She didn't just teach the language—but also Chinese culture and history. Her new book reflects her warmth and breadth of teaching."—Mika Farer, former student and City Planner

"Thanks to Yi Ren, I actually learned about the Mandarin language, to speak phrases, to understand snippets of Mandarin conversations when I hear others speak, and to have the confidence to tackle this very complex language."—Beth A. Buonanno

"As a teacher myself, I have always been impressed with Yi's knowledge of language acquisition. As her pupil, I found her passion and determination inspiring. Learning with Yi gave me the feeling of being in China all over again."—Karen Enos

"I went into Yi's classroom with the belief that I would never be able to learn Chinese. Yi made learning Chinese fun, interesting and completely user friendly."—Karin Davidson