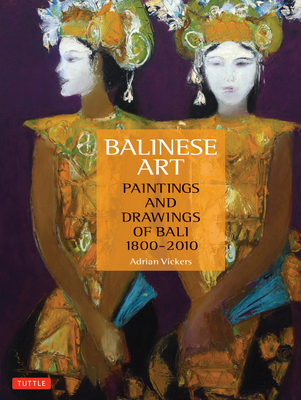 Balinese Art (Hardcover)
Paintings and Drawings of Bali 1800 - 2010
Tuttle Publishing, 9780804842488, 256pp.
Publication Date: November 10, 2012
* Individual store prices may vary.
Description
Balinese Art is the first comprehensive survey of Balinese painting from its origins in the traditional Balinese village to its present position at the forefront of the high-priced Asian art scene. Balinese art has been popular and widely collected around the world for many decades. In fact, the contemporary painter who commands the highest prices in Southeast Asia's hot art market is Bali-born Nyoman Masriadi (1973-). This book demonstrates that his work draws on a long and deeply-rooted tradition of the Bali art scene. Balinese painting has deep local roots and has followed its own distinctive trajectory, yet has been heavily influenced by outsiders. Indian artistic and religious traditions were introduced to Bali over a thousand years ago through the prism of ancient Javanese culture. Beyond the world of Indonesian art, Balinese artists and craftsmen have also interacted with other Asian artists, particularly those of China, and later Western artists. From these sources, an aesthetic tradition developed that depicts stories from the ancient Indian epics as well as themes from Javanese mythology and the religious and communal life of the Balinese themselves. Starting with a discussion of the island's aesthetic traditions and how Balinese art should be viewed and understood, this book goes on to present pre-colonial painting traditions, some of which are still practiced in the village of Kamasan--the home of "classical" Balinese art. However, the main focus is the development of new styles starting in the 1930s and how these gradually evolved in response to the tourist industry that has come to dominate the island. Balinese Art acquaints readers with the masterpieces and master artists of Bali, and the final chapter presents the most important artists who are active today and serves as an introduction to their work.
About the Author
Adrian Vickers is a professor of Southeast Asian Studies at the University of Sydney, where he is director of the Australian Centre for Asian Art and Archaeology. He is recognized as one of the world's leading authorities on Balinese culture. He is the author of Bali: A Paradise Created and A History of Modern Indonesia. His curatorial work includes the exhibition Crossing Boundaries: A Window into Twentieth-Century Indonesian Art (2002-2003) and I Nyoman Mandra: A Retrospective (2009).
or
Not Currently Available for Direct Purchase