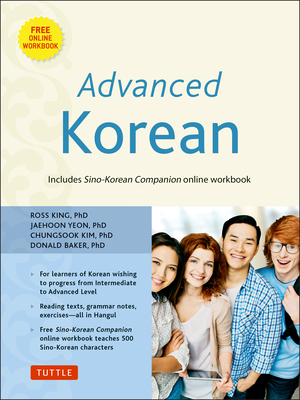 Advanced Korean (Paperback)
Includes Sino-Korean Companion Workbook on CD-ROM [With DVD ROM]
Tuttle Publishing, 9780804842495, 352pp.
Publication Date: April 7, 2015
* Individual store prices may vary.
Description
Advanced Korean offers a complete, systematic, and streamlined third-year course in Korean. It is ideal for university students and adult learners with plentiful reading texts and written exercises, all in Korean Hangul. Concise Korean grammar notes in English, extensive glossaries, and an answer key make this book suitable for those studying alone, as well as for classroom use. There are 20 comprehensive lessons, each with a reading text in which new language is introduced in context, followed by vocabulary, grammar points, and exercises. Lessons 5, 10, 15 and 20 are short reviews of the key structural patterns introduced. The focus is on written Korean, but the reading texts are not academic, they are breezy, chatty, and amusing, with illustrations. The textbook comes with a free CD-ROM entitled Sino-Korean Companion, a supplement for those learners wishing to commence the study of Chinese characters as they are used in the Korean language. The 20 lessons on the CD-ROM build on the content of the lessons in the main textbook to introduce 500 Chinese characters in their Sino-Korean readings. The emphasis is on giving students the tools they need to decipher unfamiliar Chinese characters on their own, and also on Sino-Korean vocabulary acquisition. Each lesson introduces approximately 25-30 new Chinese characters along with related vocabulary items and builds on previous characters and vocabulary introduced, demonstrating the cumulative effect on one's vocabulary of paying systematic attention to Sino-Korean.
About the Author
Ross King, Ph.D., is Professor of Korean and Head of the Department of Asian Studies at the University of British Columbia. He completed his B.A. in Linguistics at Yale and his doctorate in Linguistics (Korean) at Harvard. Dr. King taught Korean language and linguistics at the School of Oriental and African Studies, University of London, from 1990 to 1994, before accepting his current position. Dr. King's research interests range from Korean historical grammar, dialectology and pedagogy to the language, culture and history of the ethnic Korean minority in the former Soviet Union. He also serves as Dean of the Korean Language Village at Concordia Language Villages, a Korean language and culture summer immersion program for young people ages 7 to 18 that is based in northern Minnesota. Jaehoon Yeon, Ph.D., is Professor of Korean Language and Linguistics and Chair of the Centre of Korean Studies at the School of Oriental and African Studies (SOAS), University of London. He is the author of Korean Grammatical Constructions: Their Form and Meaning (Saffron Books, London) and the co-author of Korean: A Comprehensive Grammar (Routledge), Complete Korean: Teach Yourself (Hodder Education) and Integrated Korean: Advanced I, II (University of Hawaii Press). He has published many articles on Korean grammar and linguistics. He has been teaching Korean language and linguistics at SOAS since 1989. Dr. Yeon's research interests include a wide range of Korean linguistics (especially morpho-syntax) and linguistic typology, Korean language pedagogy, and translation.