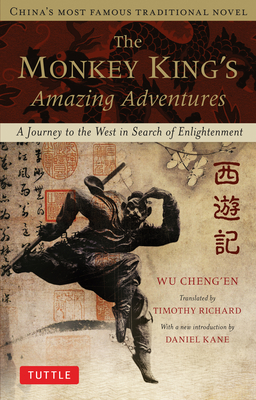 The Monkey King's Amazing Adventures
A Journey to the West in Search of Enlightenment. China's Most Famous Traditional Novel
Paperback

* Individual store prices may vary.
Description
Discover the thrilling exploits of this unlikely hero in China's most famous traditional novel. This classic Chinese epic tells the story of the Monkey King, his incredible origin and downfall, and his epic quest to redeem himself with his trusted companions, as they face fantastic foes, demons, and monsters and during their travels to the Western paradise. The talented, wily Monkey King was used to getting what he wanted--unimaginable strength, eternal life, even a position in the Celestial Realm with the gods. But his mischief gets him into trouble, the Monkey King finds himself wanting to be good and strong enough to help the monk Xuanzang on his mission to bring Buddhist Scriptures--and enlightenment--to China. Readers will thrill to Timothy Richard's retelling of the Monkey King's exploits, whether in the Dragon King's underwater castle, the Halls of the Dead, or the palace of Buddha himself. Featuring a detailed introduction by scholar Daniel Kane, this edition of The Money King's Amazing Adventures is sure to delight readers of all ages.
Tuttle Publishing, 9780804842723, 256pp.
Publication Date: April 10, 2012
About the Author
Timothy Richard traveled to China in 1868 as a Baptist missionary. When other missionaries were attempting to stamp out the popular local tales of gods and heroes such as The Monkey King's Amazing Adventures, Thomas Richard championed them for the universal messages of spiritual challenge and growth they contain. He is also the author of Forty-five Years in China. Daniel Kane is the Head of Chinese from the University of Melbourne and a Ph.D. from the Australian National University. He was visiting scholar at the Department of Chinese at Peking University in 1988 and 1993 and Cultural Counselor at the Australian Embassy in Beijing in 1996.