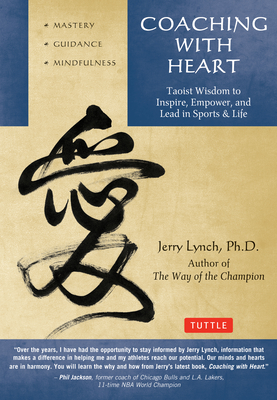 Coaching with Heart
Taoist Wisdom to Inspire, Empower, and Lead
Paperback

* Individual store prices may vary.
Description
Taoist Wisdom to Inspire, Empower, and Lead in Sports & Life.
In the world of athletics, an innovative breed of coaches is emerging--men and women who insist on fostering strong, healthy relationships with their players where respect and integrity are forged--and they are winning In
Coaching with Heart
, recognized sports psychologist Dr. Jerry Lynch declares that the relationship game is the single most vital aspect of successful and productive coaching in sports. By creating more intimacy between coach and team, and recognizing that both team and coach can learn from each other, everyone can fulfill their mutual goals.
Coaching With Heart
is a provocative and practical 'game changer' in the shifting landscape of athletics and life coaching. Awaken to established techniques that empower and inspire not only yourself but also the players with whom you are building a relationship. Chapters within discuss various themes, including:
The power of caring in having love in your heart
The magic of being stronger by being softer
The positive effects of a culture of unity and cohesion
Tao Coaching, with the Taoist virtues of respect, trust, compassion, belief, and integrity.
Dr. Lynch shares wisdom he has accrued in his more than thirty years 'in the trenches', where he has had the opportunity to work with some of the most respected and effective coaches of all time, such as Phil Jackson, Pat Summit, Dean Smith, Tara Vanderveer, Bill Walsh, Anson Dorrance, Cindy Timchal, Missy Foote, and many more.
Coaching with Heart
will assist you in stepping outside the box with your leadership endeavors whether as a coach, teacher, CEO, military officer, or parent, and implement Zen Coaching approaches to guide others to practice, play, and live with the heart of a champion.
Praise For Coaching with Heart: Taoist Wisdom to Inspire, Empower, and Lead…
"Over the years, I have had the opportunity to stay informed by Jerry Lynch, information that makes a difference in helping me and my athletes reach our potential. Our minds and hearts are in harmony. We both agree that it's about the spirit of the endeavor that creates the meaning in Athletics. You will learn the why and how from Jerry's latest book, Coaching with Heart."—Phil Jackson, Eleven time NBA World Champion coach of the Chicago Bulls and L.A. Lakers

"Having played for several incredibly dynamic coaches during my career, I embrace Jerry Lynch's message in Coaching with Heart, a book about inspiration not just in sports but in life, family, goals and desires. My favorite coaches were the ones who understood Jerry's ideals and strove to connect with me on a human level. That's what this book is all about."—Steve Kerr, Five time NBA World Champion with the Chicago Bulls and San Antonio Spurs

"My success in Lacrosse and in life has been directly and positively influenced by the books, wisdom and work of Dr. Jerry Lynch. His new book, Coaching with Heart presents powerful strategies to help open all of our hearts as well as those of your athletes. This is a must read…the REAL deal."—Cindy Timchal, Head Lacrosse Coach, US Naval Academy

"Jerry is a wise and trusted friend who happens to be one of the nation's top authorities on leadership and coaching in sports. His input has had a very positive influence in helping me and other coaches at Carolina to create environments that inspire athletes to go the distance and reach their potential. This book will definitely make a difference in your coaching as well."—Anson Dorrance, Head Women's soccer coach, University of North Carolina

"Jerry's wisdom has helped guide me through my work, both as a coach and now as a Director of Athletics. His latest book, Coaching with Heart, provides practical skills and knowledge for being an effective coach as well as providing spiritual guidance that creates transformational leaders and teams."—Erin Quinn, Director of Athletics, Middlebury College

"No other person has had more influence on my 36 years of coaching than Jerry Lynch. Whenever I need wisdom, insight or inspiration I look to Dr. Lynch. His work never fails to address the truly essential elements of coaching—which is interacting from the heart. This book will light the match for you to keep strong relationships at the very core of your coaching."—Missy Foote, Head women's Lacrosse coach, women's AD at Middlebury College, 2012 USA Lacrosse Hall of Fame

"Jerry Lynch is among the most influential sports psychologists of our time and his books should be on the shelf of every coach and leader. In his latest book, he offers insights that are inspirational and enduring, as well as stimulating and practical. Such an important contribution to the profession of coaching."—Dr. Cory Dobbs, President and CEO, The Academy of Sport Leadership

"Jerry has had a profound positive influence in my personal and professional life for over 20 years. I have witnessed his work with numerous coaches and athletes achieve striking results. His Leadership training, development of team culture and coaching expertise is unparalleled and makes the athletic and coaching experience even more compelling, relevant and enjoyable."—Bob Hansen, Head Tennis coach at Middlebury College, National Coach of the Decade 2000-2012
Tuttle Publishing, 9780804843485, 192pp.
Publication Date: December 10, 2013
About the Author
Dr. Jerry Lynch has been a sports psychology consultant for the past 33 years to over 25 international and national championship teams at the professional and NCAA collegiate levels. In one survey, he has been recognized as one of the top five in his profession nationwide. He is the former Sports Psychologist for men's and women's Basketball, Lacrosse, and Soccer teams at the universities of North Carolina, Duke, Maryland, California, and Stanford and continues to work with several teams nationally. He has been involved with athletes at the Olympic Training Center in Colorado, helping them to perform up to their potential. Several of his clients have participated in various summer and winter Olympic games. Aside from sports, Dr. Lynch has worked with performing artists and corporate executives. He is the author of several books including The Way of the Champion, Spirit of the Dancing Warrior, and Creative Coaching.