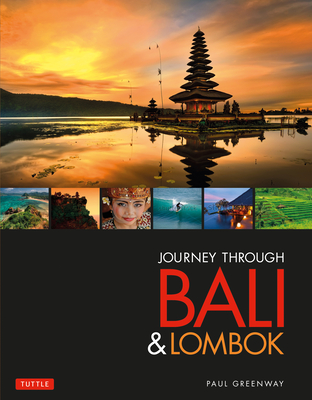 Journey Through Bali & Lombok (Hardcover)
Tuttle Publishing, 9780804843867, 144pp.
Publication Date: April 5, 2016
* Individual store prices may vary.
Description
Whether readers are planning a trip to Bali or just fantasizing about one, Journey Through Bali & Lombok makes for an unforgettable Bali travel guide. Containing more than 300 color photographs, this breathtaking volume brings you from the trendy beach of Seminyak to the Monkey Forest at Sangeh and the hot springs along Lake Batur to the sunken wrecks off Tulamben. Through stunning photographs, readers climb Lombok's smoldering Mt. Rinjani volcano and explore the nearby rustic Gili Islands and Nusa Lembongan. Greenway was a longtime resident of Bali and still considers it his spiritual home. Journey Through Bali & Lombok capture the region's stunning natural landscapes and the lives and experiences of the Balinese people--including their renowned religious festivals, gamelan music, and painting and craft traditions. For example, an image of the cliff-top temple of Pura Luhur Ulu Watu during a sunset dance performance--complete with hypnotic chanting and fire-walking--reveals intriguing aspects of ancient Balinese culture.
About the Author
Paul Greenway is physically based in Adelaide, South Australia, but emotionally, mentally and spiritually he resides in Indonesia, particularly Bali. He wrote over 30 guidebooks for Lonely Planet, including about Bali, Lombok and Indonesia; lived in Jakarta for years, from where he taught students and trained teachers across the region; studied Indonesian in Bali and other provinces; and taught Indonesian at Australian high schools. Paul has also travelled extensively throughout the archipelago from--as the nationalistic song goes--'Sabang to Merauke'. During the rare times he's not travelling, living or working in Bali, he's trying to concoct some reason to go back there. Paul is also the author of Tuttle Travel Pack Bali & Lombok..