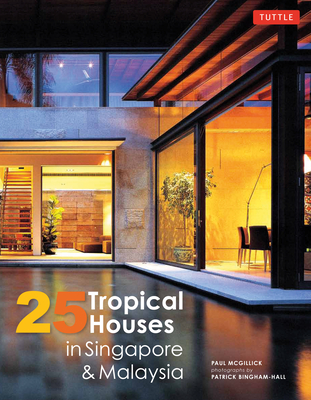 25 Tropical Houses in Singapore & Malaysia (Paperback)
Tuttle Publishing, 9780804844451, 224pp.
Publication Date: September 2, 2014
Other Editions of This Title:
Hardcover (10/1/2006)
* Individual store prices may vary.
Description
25 Tropical Houses in Singapore and Malaysia features top architects and designers with ideas that are stylish, contemporary, and show twenty-first century savvy.
The difference between a house and a home cannot easily be explained, but anyone walking into a building that is a home, rather than a house, can almost immediately feel the difference. While called
25 Tropical Houses in Singapore and Malaysia
, this book is at its heart about buildings that share a common spirit: structures that are home to a diverse cross-section of families around Singapore and Malaysia. Positioned as a global city at the hub of South East Asia, Singapore has a thoroughly modern sensibility balanced by an inherited culture and sense of place. This new global consciousness is reflected in its architecture, which demonstrates a seamless marriage of vernacular and modernist forms. The luxury homes in this book illustrate how architects work with, rather than against, the singular landscape to generate beautiful tropical homes embellished with modern Asian decor. A new wave of highly distinctive architecture has seen Singapore recognized, for the first time, as one of the world's most dynamic architectural centers. Malaysian architecture retains a greater interest in vernacular forms, but the nation's strong economic growth has seen a push to recast the urban landscape. Architects are now working to accommodate the 'brave new world' of an affluent technocratic society within the Asian architecture vernacular currently found throughout most of the country. The most interesting new homes in Malaysia reflect a balance between traditional values and an optimistic global outlook.
25 Tropical Houses in Singapore and Malaysia
is an amazing source of home inspiration and insights, whether one seeks to know more about Singapore architecture, Malaysian traditions or tropical architecture in general. Architects featured in this book include:
SCDA
WOHA
Bedmar and Shi
CSYA
Kevin Low
K2LD
Seksan
WOW Architects
John Heah
About the Author
Paul McGillick has a Master of Architecture degree from the University of NSW and a Master of Arts from the University of Sydney. He is the author of Alex Popov: Buildings and Projects and Sydney Architecture. Patrick Bingham-Hall is an architectural photographer and the editor of Pesaro Publishing.