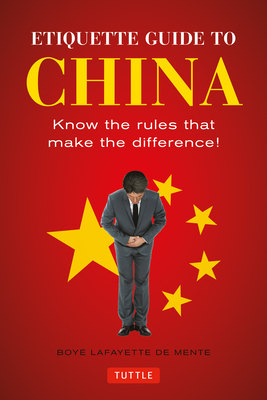 Etiquette Guide to China
Know the Rules That Make the Difference!
Paperback

* Individual store prices may vary.
Description
This essential guide to Chinese etiquette will make embarrassing social blunders a thing of the past
Whether you're traveling to China for business or pleasure, whether your stay will be long or short, your visit will be more pleasurable and productive if you understand your host culture and how to work within it. This updated and expanded edition of the best-selling Chinese etiquette guide on the market addresses not just the puzzling protocols relating to name cards, bowing or shaking hands, bathrooms and public baths--but also what to do when entertaining Chinese dinner guests, attending a Chinese tea ceremony, taking the subway, and much more It also provides the latest etiquette in mobile phone manners, texting, social media and other forms of digital communication. The glossary at the back of the book has been revised to include the latest technology-related words and expressions used in China today. Two new chapters address the changing role of foreigners in the workplace and the contemporary business style and etiquette used by the younger generation of Chinese who are now increasingly cosmopolitan--but still very Chinese
Etiquette Guide to China includes everything you need to know to be a successful, courteous traveler:
Hand gestures and body language
How to address the Chinese
Dining and restaurant manners
Gift giving and celebration in China
Entering into and understanding business relationships
How to behave in professional situations
Dealing with China's political culture
The Chinese way of negotiating
Tuttle Publishing, 9780804845199, 192pp.
Publication Date: August 16, 2016
About the Author
Boye Lafayette De Mente worked for several years as an editor of newspapers and magazines in Tokyo. He has written more than 30 books on Japan's language and culture, including Japan's Cultural Code Words: 233 Key Terms That Explain the Attitudes and Behavior of the Japanese, Japan Unmasked: The Character & Culture of the Japanese, and Business Guide to Japan: A Quick Guide to Opening Doors & Closing Deals. Patrick Wallace has lived and worked in Asia for more than thirty years as a student, NGO volunteer, teacher, businessman, and finally as an academic editor for Oxford University Press, Shanghai, China. His books include Exploring Xinjiang: An American Family's Journey to the West. He now works as a freelance writer from his home in rural Japan.