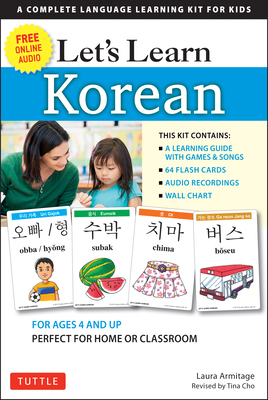 Let's Learn Korean (Hardcover)
64 Basic Korean Words and Their Uses (Flashcards, Audio CD, Games & Songs, Learning Guide and Wall Chart)
Tuttle Publishing, 9780804845410
Publication Date: August 18, 2015
* Individual store prices may vary.
Description
Welcome to a Korean language learning adventure--designed to make learning fun
The
Let's Learn Korean
kit is an introductory language learning tool specially designed to help children from preschool through early elementary level acquire necessary words, phrases, and sentences in Korean in a fun and easy way. The flashcards can be used as a learning tool in a classroom setting, at home, or anywhere that learning takes place, and can easily be taped around the room for an interactive learning experience.
This Korean flashcards-for-kids kit contains:
64 Flash Cards (4.25" x 2.7") that get children talking--about Numbers, Colors, Going Places, and more. Everyday words and sentences help children learn naturally.
Audio CD provides native pronunciation of the Korean words and sample sentences for practice--plus Korean songs that help make learning fun.
Color Wall Chart (24" x 18") keeps all the new vocabulary in sight.
Learning Guide for Parents and Teachers 32 ages tells you how to use the cards for most effective learning, and includes activities and games to play with your kids.
About the Author
Laura Armitage was born in Seoul, Korea and raised in Andover, NH. After receiving her BA in English from the University of NH, Laura pursued a teaching career in Seoul, Korea. For four years she taught at the middle and high school levels and was an instructor for the Seoul Ministry of Education. While there, she translated the postscript of Escaped Children from North Korea by Jiyon Kim. Laura returned to the U.S. in 2002 to translate for the Korean Short Track Speed Skating Team at the Winter Olympics in Salt Lake City. She then earned her U.S. K-8 teaching certification, furthering her teaching career in the U.S. She has taught at the elementary and middle school levels in the U.S. and currently teaches 5th grade at Franklin Middle School in Franklin, New Hampshire.