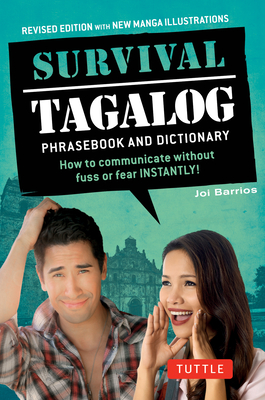 Survival Tagalog Phrasebook & Dictionary
How to Communicate Without Fuss or Fear Instantly!
Paperback

* Individual store prices may vary.
Description
This practical Tagalog phrasebook puts all the most important Tagalog words and phrases in the palm of your hand.
It includes tips for handling situations you'll encounter on a daily basis in the Philippines, making it the most useful Tagalog language book you can buy when traveling Romanized words are given for each Tagalog word, ensuring that you know how to pronounce each word correctly. Manga illustrations provide visual cues to language in context.
Key features of this Tagalog phrasebook include:
Pronunciation guides for each phrase with Romanized text for more accurate sounds
The right greeting in each situation
Correct personal titles for addressing Filipino people respectfully
How to ask questions and request things
Talking about your family
Telling time and days of the week
Major cities and famous places in the Philippines
Important public signs
Travel vocabulary and useful expressions like:

Getting to the Airport
Renting a Car
Eating and Drinks
Sightseeing
Health/Emergencies
Shopping and Money
And many more.
Tuttle Publishing, 9780804845595, 192pp.
Publication Date: January 31, 2017
About the Author
Joi Barrios holds a Ph.D. in Filipino and Philippine Literature from the University of the Philippines. She currently serves as a Lecturer teaching Filipino and Philippine Literature at the University of California, Berkeley, after having served as an Associate Professor at the University of the Philippines Diliman.